The current members of the Bray Wanderers squad:
Michael Barker

(DOB: 16/08/93), Defender
Former Irish underage International Michael Barker signed from UCD. Capped at all levels from U15 to U19, and a native of Dublin he played with Bohemians U19s in 2011 and made his senior début for the club in their Leinster Senior Cup win over Shamrock Rovers in July 2011. Michael's league début came the following season as a substitute against Derry City at Dalymount Park in May 2012. He went on to make a further fourteen appearances that season. Michael stayed with Bohemians for 2013 before moving to UCD with whom he made 11 appearances.
Michael Brown

(DOB: 21/02/96)
Signed from Stella Maris in July 2013. Michael is an Under-19 team player. Michael is a current Ireland schools international. He made his League debut against Drogheda in April 2014.
David Cassidy

(DOB: 23/05/85, Ringsend, Dublin), Midfielder
Dave Cassidy began his career with local junior club Cambridge, before moving on to Home Farm, and joined Derby County at the age of 17. Returning in 2005, he signed for Kilkenny City and from there followed Pat Scully to Shamrock Rovers, staying with the Hoops as they returned to Premier football. Dundalk was next, for two seasons, followed by four with Shelbourne and in 2013 he was at Drogheda United. He signed for Bray Wanderers in January 2014.
Niall Cooney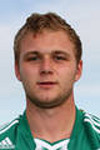 (DOB: 21/08/92), Defender
Signed for Bray in July 2013 from Crumlin United. Niall made four league appearances in 2013 season. After a short return to Crumlin, re-signed for Bray in January 2014.
Gary Curran

(DOB: 22/09/87, Sligo), Midfielder
Gary came up through Sligo Rovers' under-age system and made his first senior appearance in 2004, as well as his full U18 international debut for Ireland. He left Sligo at the end of 2008 and signed for Longford Town. Released after a season, he was signed by Galway United in February 2010 and made 30 league appearances, scoring three times, but was released amid financial turmoil in June 2011. A month later, Gary signed for Finn Harps, but in January 2012 he joined Ballinamallard United. He returned to the LoI in February 2013 when he signed at Mervue United. Gary signed for Bray Wanderers on 01 Feb 2014.
Adam Hanlon

(DOB: 03/06/92), Right midfield
Signed in January 2012 from Arklow Town. Won the LFA youth cup in 2010 with Arklow and was on the Wicklow Under-18 squad that finished runners up in the FAI youth Interleague trophy in 2010. He signed for Bray Wanderers originally in January 2012 and made his debut in the Setanta Cup against Glentoran. Adam moved to Shelbourne for the 2013 season playing under Alan Mathews and then Johnny McDonnell. He rejoined Wanderers in January 2014.
Graham Kelly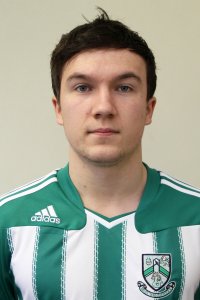 (DOB: 31/10/91), Midfielder
Graham has represented Ireland at U-18 level, is a central midfielder and joined Wanderers in July 2010 from Derby County on loan until the end of the season. Signed permanently for Wanderers in February 2011. Graham re-joined Wanderers in January 2014 after brief spells with Athlone Town and Salthill Devon. Graham made 14 league appearances for Wanderers in 2011.
Robert Maloney

(DOB: 09/06/93), Defender
Robert is a centre back who had spells with Liverpool and Fulham before injury interrupted his career across the water. He signed for Wexford Youths in July 2013 and made eight league appearances for Shane Keegan's side.
Gareth McDonagh

(DOB: 27/02/96), Midfielder
Gareth, who hails from Greystones, began his football career with St Anthonys in Wicklow before moving to St Josephs Boys in Sallynoggin. Midfielder Gareth won the RTÉ Football's Next Star competition in 2012 and moved to Glasgow Celtic's Youth Academy. He signed for Bray Wanderers in July 2014.
Eric McGill

(DOB: 16/10/1987, Dublin), Defender
Eric joined Shamrock Rovers in December 2006. He made 22 league appearances for the Hoops before moving to Drogheda United in 2009. He left Drogheda at the end of the 2010 season and in 2013/14 he was part of Crumlin United's Leinster Senior League side. Eric joined Bray Wanderers in February 2014.
Stephen McGuinness

(DOB: 10/03/95), Goalkeeper
Previously Bray's Under-19 team first choice keeper, Stephen made his senior debut in the Leinster Senior Cup victory over Tolka Rovers in May 2013. He has made an impressive first team contribution in 2014 in the absence of Darren Quigley. Supporters Club Player of the Month for April 2014.
Adam Mitchell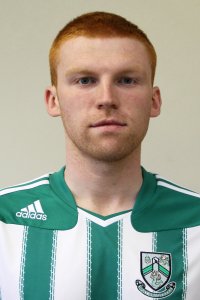 (DOB: 23/06/83), Defender
Adam signed from Bangor Celtic in July 2010 along with team mate Derek Prendergast. Adam made his debut in the league defeat to Sporting Fingal at the Carlisle in the same month. Former Ireland amateur international. Adam was player of the Month in June 2011 and July 2014.
Sean Noble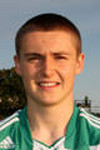 (DOB: 20/03/96), Midfielder/Forward
Sean signed for Bray Wanderers from Stella Maris in July 2013. Current Under-19 team player, Sean made his debut in the league game at home to Shamrock Rovers in July 2013 and made three first team appearances that season.
Shane O'Connor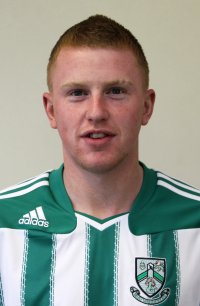 (DOB: 19/06/1990), Defender
Shane made his debut in the Leinster Senior cup victory against Athlone Town at the Carlisle Grounds in February 2010. He was the Young Player of the Year in 2011. Shane had made 103 appearances in all competitions by the end of the 2013 season.
Shane O'Neill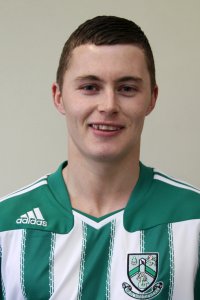 (DOB: 09/01/1989), Forward
Shane made his début in the 2008 season, and was the A team player of the year in 2009. He was voted Supporters club player of the month for May 2010 and June 2010. Shane scored a hat-trick against UCD in the semi-final of the Leinster Senior Cup in July 2010. Joined Dundalk in January 2012 and returned to Bray in 2013. Went to Shamrock Bhoys briefly before returning to the Carlisle in January 2014.
David Scully

(DOB: 20/01/85), Forward/Midfielder
David spent some time with Carlisle United before returning to Ireland and played with Mullingar Athletic and O'Devaney before lining out for Kildare County (2005-2006). He moved to Malahide United in the Leinster Senior League in 2007 before making his return to League of Ireland football with Monaghan United in 2008. He signed for Bohemians in January 2012 from AUL side O'Devaney/Dunard. David scored for Bohemians in the Europa League match against Ţór Akureyri in July 2012. At the end of the 2013 season he signed for non-League side Ballymun United before joining Bray Wanderers in February 2014.
Gavin Sheridan

(DOB: 03/01/96, Dublin), goalkeeper Gavin previously played for Mount Merrion and Belvedere. Made senior debut as a subsitute against Bohemians in June 2014. Has been on the bench since mid-August for the first team.
Ryan Swan

(DOB: 13/05/96, Dublin), striker Previous clubs were Shelbourne, Home Farm and Tolka Rovers. This is his second season with Bray Wanderers. Made his competitive debut for Wanderers at Dalymount Park against Bohemians in September 2014
Dean Zambra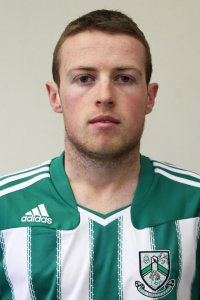 (DOB: 30/07/88), Midfielder
Dean made his first team début in the final game of the 2008 season away to Sligo but had to wait until 2010 to return to the first team. He has been a regular in central midfield since then.
Pen pics by Michael Duffy.
Soccer clubs and programme editors are welcome to use original material from this site. Please credit the website braywanderers.com for anything you use.