Bray Wanderers First Team 2017:
Jamie Aherne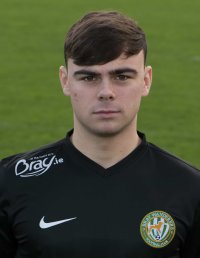 (DOB 08/07/1998)
Forward
Squad number 134
Jamie started off at Lucan United before moving to Cherry Orchard at schoolboy level. He was an SFAI Cup winner with the Orchard. He moved to St Patricks Athletic and then played for Shamrock Rovers under 19s in 2016. Jamie played for the Republic of Ireland under 17s during the campaign for the UEFA Cup Under 17 Championship Finals in 2015.He played in three games in the Elite round against Greece, Belarus and Poland in March 2015. He scored twice in the 3-1 win over Belarus. Jamie made three appearances in the Final Tournament in May 2015 against the Netherlands, Italy and England. He scored twice for the Ireland U17s against Belarus in the Elite Qualifying Round then featured in the UEFA U17 Championships finals in May. In 2016 he helped the DDSL win FAI Youths Inter-League Cup. He joined Bray Wanderers in January 2017.
Ryan Brennan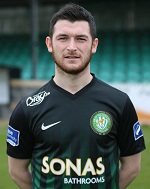 (DOB 11/11/1991)
Midfielder
Squad number 7
Ryan played all the way up through the underage system at Drogheda Boys and joined the Drogheda United Youth side in 2007. Made his first team debut in 2010. In 2011 he signed for Mick Cooke at Monaghan United. In 2012 Ryan was back at Drogheda United, again signing for Mick Cooke. In December 2013 Ryan moved to Shamrock Rovers. Ryan continued to play for the Hoops in 2015 and played in three of the club's Europa League matches as Rovers went out to Norwegian side Odds. In December 2015, Ryan moved to Bray Wanderers.
Keith Buckley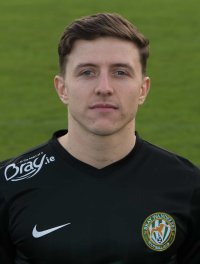 (DOB 17/6/1992)
Midfielder
Squad number 6
Keith started out with the famous Dublin youth side Belvedere, winning the FAI U17 Cup with them in 2010. He signed for Bohemians in June 2010 and played with the club's U20 and A Championship sides. He made his senior debut for the Gypsies against Dundalk on 18 March 2011 and scored his first goal in a league game against Shamrock Rovers in April of that year. Keith stayed at Bohemians for five further seasons until the end of 2016. Keith joined Bray Wanderers in December 2016.
Peter Cherrie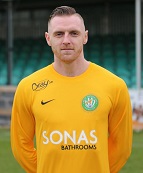 (DOB 01/10/1983, Belshill, Scotland)
Goalkeeper
Squad number 1
Peter started his career as an 18-year-old at Airdrie United in 2002. He made just one senior appearance in two years at the club before a short spell at Junior side Kilsyth Rangers brought him to the attention of Ayr United. Peter made six appearances at Ayr before leaving at the end of the 2004/05 season. Joined Clyde at the start of 2005/06 and spent three years there before being released in June of 2009. Signed for Dundalk in July 2008. In 2010 he was voted Dundalk's Player of the Year. In the 2014 season he started all thirty-three league games as Dundalk won the premier division title. In January 2015 he joined Cliftonville. Peter then moved back to the League of Ireland by signing with Bray Wanderers in July of 2015. Supporters club Player of the month for July 2015, April 2016 and July 2016.
Tim Clancy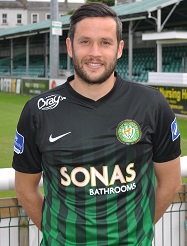 (DOB 08/04/1984)
Defender
Squad number 21
After early experience with Trim Celtic and Belvedere, Tim moved to Millwall in the summer of 2003. He spent a season there before spending three seasons in English non-league football, paying for Walton & Hersham, Weymouth and Fisher Athletic. He got his break in 2007, signing for Kilmarnock in the SPL on amateur forms. He later went on to turn out for Motherwell, Hibernian and St Johnstone in Scotland. Tim signed for Shamrock Rovers in February 2015 and moved on loan in July 2015 to Sligo Rovers until the end of the season. In January 2016, he made his move to the Showgrounds permanent for the upcoming 2016 season. He made seven league appearances before leaving the club in June 2016. Joined Bray Wanderers in July 2016.
Ryan Coulter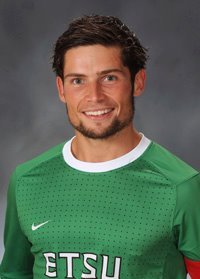 (DOB 08/02/1989)
Goalkeeper
Squad Number TBA
Ryan played for Dundalk's U20 side in 2008/09 and made just one senior league appearance that year before moving to the University of San Diego. He returned to Ireland in summer 2014 and signed for Athlone Town, playing in all their remaining league games. In 2015 he joined Sligo Rovers and made seven league appearances that season. Ryan returned to Athlone Town in 2016, making just three appearances for the Midlanders before leaving in June when he signed for Longford Town. He made 12 league appearances for Longford in the Premier Division. Ryan left Longford at the end of 2016 and signed for Drogheda United in March 2017. He spent just four months at United Park but left the club at the end of July, joining Bray Wanderers on 01 August 2017.
Hugh Douglas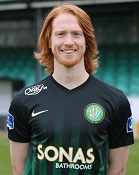 (DOB 22/06/93, Wicklow)
Defender
Squad number 2
Hugh Douglas joined UCD from Belvedere, where he had won the FAI Under-17 All Ireland. He has represented his country at U21 level, and was in the Ireland International Schools squad where he was named Player Of The Year in 2011. He signed for Bray in December 2014. Supporters club Player of the month for May and August 2015. He was the Player of the year and Young player of the year in 2015. Supporters club Player of the month for March 2016.
Conor Earley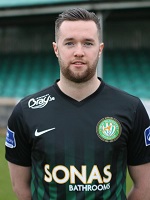 (DOB 28/05/93)
Midfielder
Squad number 12
Conor started with Crumlin United before signing for Shamrock Rovers and playing in their U20 and A Championship sides in 2010. In January 2011 he signed for Bray Wanderers and was a member of the the U19 team for the 2011/12 season. He made his senior debut in October 2011 and became a regular in 2013. In 2014 he moved to Greystones AFC in the Leinster Senior League, before signing for Shelbourne in January 2015. Returned to Bray Wanderers in February 2016.
Anthony Flood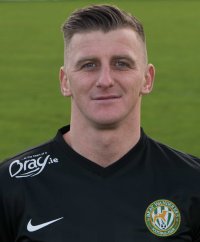 (DOB 31/12/1984)
Forward
Squad number 20
Anthony, nicknamed "Bisto", started his League of Ireland career with St Patricks Athletic in the 2005 season. He had loan spells with Athlone Town in 2005 and in 2006 with Shamrock Rovers. He started the 2007 with Dundalk but moved to Shelbourne in July 2007. In March 2010 he signed for Galway United but moved to Norwegian side Örebro SK in July 2010. Anto then had spells at Bohemians (2011), Southend United (2012) and St Patricks Athletic again, winning the League title with St Pats in 2013 and named the League's player of the month in September 2013. At the end of the 2013 season Anto emigrated to Australia. He joined Dunbar Rovers in the ESFA Premier league in Australia for 2015 and then Maconi Stallions in Sydney in 2015. He joined Bray Wanderers in January 2017.
Derek Foran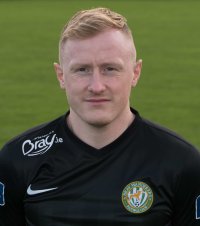 (DOB 09/10/89, Dublin)
Defender
Squad Number 5
Central defender who was signed from St Patricks Athletic on loan for the 2008 season. Has been capped for Ireland at Under-18. Made his debut in the 3-0 league cup win over Athlone Town in March 2008. In February 2008 Derek went on loan to Bray Wanderers, a move that was made permanent in July 2008. Derek made 56 appearances and scored one goal in all competitions in his two seasons with Bray. He was the Supporters Player of the Month for March 2009. In January 2010 Derek moved to Sligo Rovers and was a substitute in both of Sligo's FAI cup wins in 2010 & 2011. In January 2012 Derek signed for Dundalk and joined Shamrock Rovers for the 2013 season. He won the Setanta Cup winner's medal when Rovers beat Drogheda United in the final in 2013 as well as the Leinster Senior Cup in 2013. In January 2014, he moved to St Patrick's Athletic and was on the bench for the FAI Cup Final which St Pats won 2-0 against Derry City. In March 2015 Derek moved to California and signed for United Soccer League side Sacramento Republic FC on a two-year contract.
Aaron Greene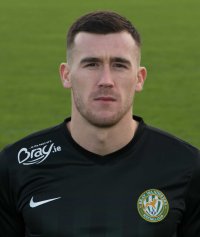 (DOB 02/01/1990)
Midfielder
Squad number 9
Aaron is a striker who began his career with Galway United in 2009. In January 2010 Aaron signed for Bohemians where he made 18 league appearances. Aaron moved on at the end of 2010 to Sligo Rovers, where he made 35 league appearances in his first season and picked up an FAI Cup winners medal as Sligo defeated Shelbourne in the final. In 2011 Aaron signed for Shamrock Rovers. He scored three goals in the Leinster Senior Cup, including the winner in the final against St Pats CY. In 2013 he returned to Sligo Rovers and played in the club's 2013 FAI Cup final victory over Drogheda United. The following year he added two more goals in 17 league appearances before switching to St Patricks Athletic. Aaron scored St Pats' only goal in the 4-1 aggregate defeat to Skonto Roga in the Europa League First Qualifying Round. In February 2016, Aaron joined First Division side Limerick and scored 11 league goals as Limerick won the First Division title. Aaron joined Bray Wanderers in December 2016.
Conor Kenna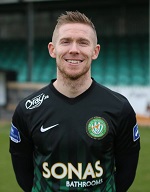 (DOB 21/08/1984, Dublin)
Defender
Squad number 4
Conor is a product of the Cherry Orchard under-age set up and also had a three year spell at Coventry City as a trainee before returning to Ireland to sign for Shelbourne in 2003. He had spells with UCD (2004-2008), Drogheda United (2009) and St Patricks Athletic (2010-2014). He captained St Pats to the League title in 2013. He then moved to Shamrock Rovers for the 2014 & 2015 seasons. He played in both of the club's Europa League matches against Odds as Rovers went to the Norwegian side. In December 2015, Conor moved to Bray Wanderers.
Kevin Lynch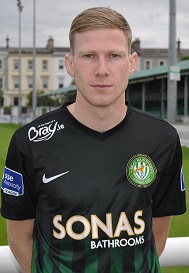 (DOB 21/3/1992)
Defender
Squad number 19
Kevin played with Dublin junior side Sheriff YC and was part of the team that played in the 2013 FAI Cup. He played for the Irish amateur side Easter Region team that won the UEFA Regions cup in July 2015. Kevin played for the Sheriff team that reached the quarter finals of the FAI cup in 2015. They defeated UCD and Athlone Town (after a replay) before losing to Longford Town. He won the FAI Junior Cup in 2015/16 when Sheriff defeated Pike Rovers in the final at the Aviva Stadium, his second FAIJC FInal in seuccessive years.
Jason Marks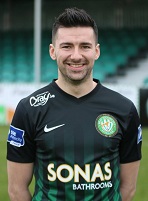 (DOB 02/05/1989, Dublin)
Midfielder
Squad number 23
Jason is a former Killester United player who had spells with Sporting Fingal A team (2010-2011), Monaghan United (2012), Drogheda United (2012-13). Jason was part of the matchday squads when that last club lost out in both the EA and FAI Cup finals. In November 2013 Jason followed manager Mick Cooke to newly promoted Athlone Town (2014), In 2015 h played with Drogheda United. In December 2015 Jason moved to Bray Wanderers.
Gary McCabe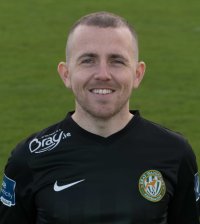 (DOB 01/08/88, Tallaght)
Midfielder
Squad Number 11
Signed from Leinster Senior League side Crumlin United in December 2006. Gary made his debut as a substitute in the opening day defeat to Derry City at the Brandywell. Gary scored his first goal when hitting the winner against UCD at the Carlisle Grounds in May and also scored in the club's record equalling 7-0 win over St Mochtas in the FAI cup. Gary was voted the Supporters Club player of the month for May 2007. He had a brief loan spell at First Division side Shelbourne for the latter half of the 2008 season. He returned to Bray for 2009 and was the top goal scorer. Gary moved on to Sligo Rovers in 2010 and won an FAI Cup winners medal. He signed for Shamrock Rovers in January 2011 and won the Premier division title in his first season in Tallaght. In 2012 Gary won Setanta Cup, EA Cup and Leinster Senior Cup winner's medals. In 2015 season he played in all four of the Hoops Europa League matches. Gary signed for Bray Wanderers in December 2016.
Karl Moore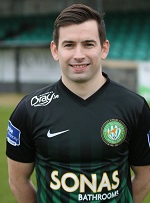 (DOB 09/11/1988)
Midfielder
Squad number 10
Karl signed for UCD in the summer of 2010 when he was released by Manchester City after four years at the club. Karl had previously spent time on loan at Millwall where he made six first-team appearances during the 2008/09 season. In February 2011 Karl moved to Galway United before leaving the club in July 2011 to sign for Shamrock Rovers. In January 2012 Karl signed for Bohemians. Joined Bray Wanderers in December 2015.
Darragh Noone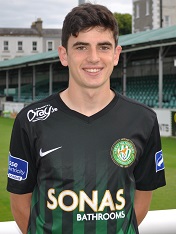 (DOB 28/4/1997)
Utility
Squad number 22
Darragh joined the Bray Under-19 team from Lourdes Celtic in 2014. Previously played with St Josephs Boys. He has played for Bray Wanderers u19 team for the 2014/15, 2015 and 2016 seasons. Joined the first team squad in April 2016. By the end of the 2016 season he had amassed 19 appearances in all competitions. His first goal for the club came in the 2-0 away win over Longford Town in City Calling Stadium in September 2016. He followed up that goal by scoring the following week in the 4-0 win over Sligo Rovers at the Carlisle Grounds. At the end of 2016, Darragh was named as the Bray Wanderers Young Player of the Year.
Gerald Pender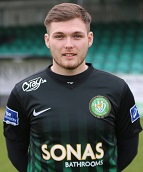 (DOB 22/05/1994)
Forward
Squad number 17
Signed from Belvedere in June 2011. Ger played for the U19s and made two first team appearances in the Leinster Senior Cup in 2012. Made his League début against Cork City in May 2013. Signed for Wayside Celtic in July 2013. Scored three times in 16 appearances for Cabinteely after having joined from Longford Town, and signed for Drogheda United in July 15. He returned to Bray Wanderers in December 2015.
Ryan Robinson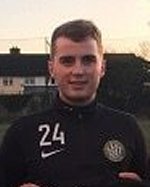 (DOB 02/04/1996, Dublin)
Defender
Squad number 24
Ryan is a defender who joined Shelbourne U19s from St Kevins Boys in July 2013. He made his senior debut in an EA Cup tie against Bray Wanderers in March 2014. Ryan went on to make 21 league appearances for Shelbourne as they missed out on the play-offs. In 2016 he made a further 13 league appearances for the Reds but he left Tolka Park at the end of that season and had a brief spell with LSL side St Mochtas in January 2017. Ryan moved to Bray Wanderers in February 2017.
Calvin Rogers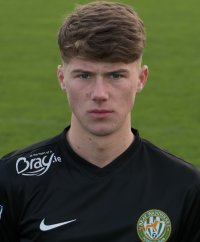 (DOB 16/12/1999)
Defender
Squad number 24
Calvin played schoolboy football with Crumlin United and Cherry Orchard. He joined Shamrock Rovers u17 squad for the 2015 short season and 2015/16 season. He joined Bray Wanderers in January 2017 and was eligible for the under 19 team for the 2017 season.








Mark Salmon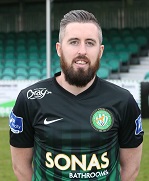 (DOB 31/10/1988, Dublin)
Midfielder
Squad number 8
Mark began his career at Wolverhampton Wanderers in 2007. In December 2008 he went on loan to Port Vale where he played in the first team until his return to Wolves in January 2009. In 2009 he returned to Ireland to play for Drogheda United. Moved on to Athlone Town (2009) and Longford Town (2009 - 2014) Won the First Division title with Longford in 2014. Mark signed for Bray Wanderers in November 2015.
Lee Steacy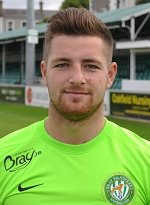 (DOB 18/01/1993)
Goalkeeper
Squad Number 93
Lee played with Shamrock Rovers' U19 side in 2011/12. He had a spell with Firhouse Clover before joining Bohemians in 2015. Lee only made one league appearance during the 2015 season, which came in the 0-0 draw with Bray Wanderers in May. Lee stayed as the no 2 goalkeeper for the 2016 season and didn't make a league appearance before leaving Bohemians in July 2016 to sign for Bray Wanderers.




John Sullivan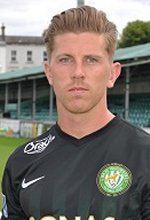 (DOB 06/01/91, Dublin)
Midfielder
Squad Number 3
John previously played with Dundalk, Shelbourne and Limerick FC. He played youths football in Dublin with Lourdes Celtic and Crumlin United before signing with Bohemians and playing with their U20 side. In February 2009 he moved to Scotland where he spent a season and a half at Hamilton Academical. At the end of 2009/10 he returned to Ireland and signed for Limerick FC in June. He spent the remainder of the 2010 season there. In February 2011 John signed for Shelbourne and played in the FAI Cup final. He left Shels in July 2012 and signed for Drogheda United. In January 2013 he signed for Dundalk and spent a season there before returning to Shelbourne in January 2014. In December 2014, John returned to Crumlin United. Signed for Bray Wanderers in June 2015. Moved on to Galway United for the 2016 season but returned to Bray in July 2016.
Pen pics by Michael Duffy.