The current members of the Bray Wanderers squad:
Ismahil Akinade

(Date of Birth: 11/02/94, Ibadan, Nigeria), Forward.
Ismahil was signed in July 2012 from St Patricks Athletic, having featured for their Under-19s the previous season.
Michael Brown

(DOB: 21/02/96).
Signed from Stella Maris in July 2013.
Jason Byrne

(DOB: 23/2/78, Dublin), Forward.
Jason joined Wanderers in the summer of 1998 from St Colmcilles. Jason scored both of Wanderers' goals in the second replay of the fAI cup in 1999. Player of the Year in 2002/03. Signed for Shelbourne in February 2003, and helped them to the League Championship that year, picking up the PFAI Player of the Year award as well. Made two senior international appearances for Ireland, in 2004 and 2006. Signed for Cardiff City, January 2007. Returning to Ireland in 2008, he joined Bohemians where he won two League titles and the 2008 FAI Cup, as well as the 2010 Setanta cup. He played the 2011 season with Dundalk. Returned to Bray in January 2012. He is the second highest goalscorer in League of Ireland history behind Brendan Bradley.
Ryan Coombes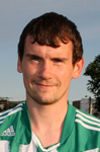 (DOB: 30/01/94), Midfielder.
Ryan played for Bray Wanderers U19s during 2011. In 2012 he joined St Patricks Athletic U19, appearing for the first team in a Leinster Senior Cup game against Shamrock Rovers in May. Ryan made his League debut for Pats on 13 August 2012 and he made eight league appearances that season. In January 2013 he went on loan to Athlone Town where he scored three times in eleven League appearances. He was released from St Pats by mutual consent, and in July 2013 he signed again for Bray Wanderers.
Niall Cooney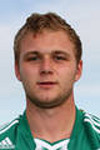 (DOB: 21/08/92), Defender.
Signed to Bray in July 2013. Was with Crumlin United in 2011/2.
Adam Cox

(DOB: 21/08/95).
Gary Dempsey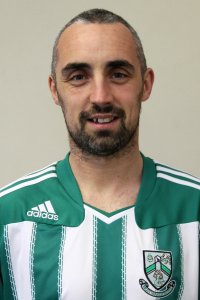 (DOB: 15/01/1981, Wexford), Midfielder.
Gary was a former Irish youth international when he joined in September 2000 from Everton and made eight appearances before moving on to Waterford United in January 2001. Waterford Supporters Player of the Year for 2001/02. From 2002-2005, Gary was playing in the Scottish Premier League with Dunfermline Athletic, and on loan to Doncaster Rovers in 2006. He signed for Yeovil Town in 2007, and then moved to St Patricks Athletic. He signed for Darlington in January 2010 but was released following their relegation later that year. Returned to Bray in July 2010. Gary was SWAI Player of the Month for April 2011. Bray Wanderers Supporters Club Player of the Year 2011. Moved to Waterford United in December 2011 and was their player of the year in 2012. Gary returned to Bray early in 2013.
Gary Dempsey 2011 Bray Wanderers Gallery
Daire Doyle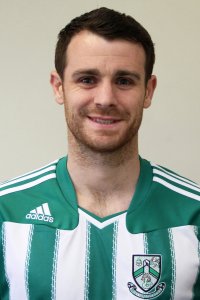 (DOB: 18/10/1980, Dublin), Midfielder.
Daire began his career with Cherry Orchard in 1997/98 before moving cross channel to Coventry as an apprentice in 2000. In 2001 he moved to Kidderminster Harriers, where in a two-year stint he appeared 27 times in all competitions and scored once. He moved to Nuneaton Borough in 2002 and made 10 league appearances for them. He later had spells at Moor Green (2004/05), Redditch United (2005/06) & Bromsgrove Rovers (2006/07). He returned to Ireland in 2007 and joined Longford Town where he made 56 league appearances and scored two league goals in two seasons at Flancare Park. He joined Bray in January 2009.
Conor Earley

(DOB: 28/05/93), Midfielder.
Made his debut away to Drogheda United in October 2011. Conor has played for the under 19's for the last two seasons and had made five first team appearances prior to 2013 season.
Sean Hurley

(DOB: 17/11/95), Midfielder.
Sean Hurley became the youngest player to play a competitive first team game for Bray Wanderers when he made his debut as a substitute against St Patricks CY in the Leinster Senior Cup at Irishtown Stadium on 7 May 2012. Sean was aged 16 years 177 days when he made his debut. Sean made his League debut as a substitute against Drogheda United and is also the youngest league debutant for the club.
Eoin Hyland

(DOB: 05/07/94), Defender.
Eoin played with St Patricks Athletic U19 side in 2011/12. He made his senior debut for St Pats in a LSC tie gainst Phoenix FC in March 2012. He joined Bray in January 2013 and made his debut on the opening night against Shelbourne.
Kevin Knight

(DOB: 13/2/1983, Dublin), Midfielder.
Irish Under-19 international who played in last year's European championship under-19 finals for Ireland. Made eight appearances in 2011 season for Wanderers after joining from Leicester City. First choice left full back this season.
Kevin Maher

(DOB: 17/10/76, Ilford, London), Midfielder.
After beginning his career with Tottenham Hotspur, Maher moved to Southend United in January 1998. Over the next ten years Maher rose to be team captain and later club captain. During this time he made more than 400 appearances, and captained Southend to promotion twice, from League Two to the Championship, in successive seasons. He has since spent time at Gillingham, Oldham and Dagenwood & Redbridge. Kevin is eligible to play for the Republic of Ireland, and made four appearances for the Irish U-21s. He signed for Bray in August 2013.
Stephen McGuinness

(DOB: 10/03/95).
Adam Mitchell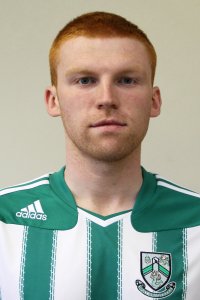 (DOB: 23/06/1983), Defender.
Adam signed from Bangor Celtic in July 2010. Former Ireland amateur international. Adam made 16 appearances in all competitions in 2010. Player of the Month in June 2011.
John Mulroy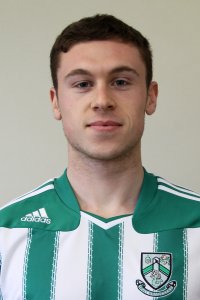 (DOB: 27/12/89, Dublin), Forward.
John made a scoring début in his only first team appearance of the season against Longford Town in July 2007, becoming the youngest player to score for Bray Wanderers in a first team competitive fixture, aged 17 years and seven months. John Mulroy won the FAI Schools Player of the Year award for 2008.
Sean Noble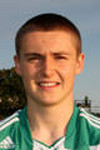 (DOB: 20/03/96), Midfielder/Forward.
Sean signed for Bray Wanderers from Stella Maris in July 2013.
Daniel O'Connor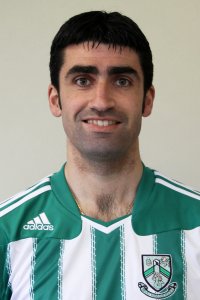 (DOB: 28/09/80, Dublin), Defender.
Danny began his career with Bray Wanderers in July 1999 before moving to Drogheda United in 2001 and Longford Town in 2004, winnning the FAI cup and League Cup in his first season there. In 2007 Danny joined Shamrock Rovers and stayed with the Hoops for two seasons. After a spell out of the game he joined Newry City for the 2009/10 season. Danny returned to his home town club, Bray Wanderers, in July 2010 and was voted the Supporters club player of the month for March 2011.
Kevin O'Connor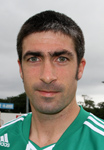 (DOB: 19/10/85, Dublin), Midfielder.
Kevin joined in July 2012 having spent the last three seasons with Worcester City. He had previous spells with AFC Telford, Stockport County and Wolverhampton Wanderers. He joined his older brother Danny at the Carlisle.
Shane O'Connor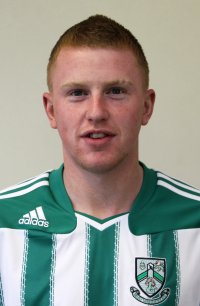 (DOB: 19/06/1990), Defender.
Shane made his debut in the 2010 season. He was the Young Player of the Year in 2011.
Kevin O'Leary

(DOB: 06/11/1991), Midfielder.
The 21-year-old joined from Bohemians in July 2013. He had scored for Bohs in their EA Sports Cup victory over the Seagulls in May 2013.
Darren Quigley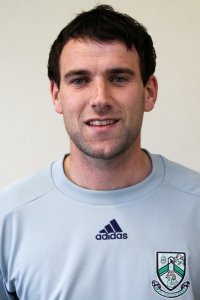 (DOB: 10/06/1986, Dublin), Goalkeeper.
Darren signed for Bray in March 2011. He has one Ireland B International cap, which he earned against Scotland in 2006, as well as eight Ireland Under-21 caps. Began his career with UCD in 2004 and was their Supporters club Player of the Year for 2005. Joined Derry City in December 2007 and won the League Cup in 2008 with the Candystripes. Darren played with Sporting Fingal in 2009, winning the FAI Cup. He was the July 2012 Player of the Month.
Stephen Quigley

(DOB: 13/01/85, Dublin), Defender.
Stephen was with Coventry City as a youth before signing for St Patricks Athletic in 2003. He spent four years with the Saints and was Young Player of the Year in 2005. In July 2007 he signed for Dundalk but moved to Waterford United the following season. In February 2009 he signed for Shelbourne and made 47 League appearances over the following two seasons. Stephen moved to Drogheda in 2011, and signed for Bray Wanderers on 25 July 2013.
Shane Redmond

(DOB: 23/03/89, Rathcoole), Goalkeeper.
Redmond joined the Seagulls in July 2013 having been released by Mansfield Town. He started his career with Cherry Orchard and signed for Nottingham Forest in 2005. He had spells with Chesterfield and Darlington before joining Mansfield Town in 2011. Shane made 21 appearances for the Ireland U21 side.
Peter Thomas

(DOB: 11/07/93), Defender.
Peter played with Clondalkin side Landen United before signing for Bray Wanderers in February 2013.
Kieran Waters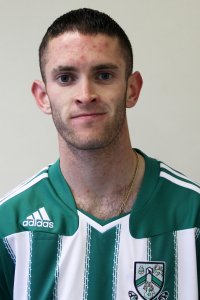 (DOB: 05/05/1990), Forward.
Kieran, better known as 'Marty', made his début against St Patricks Athletic in a Leinster Senior Cup game in March 2011. Made seven appearances in all competitions in 2011 season. A-Team player of the year in 2011. He was the Player of the Month in April 2012, May 2012 & June 2012. Supporters Club Player of the Year in 2012.
David Webster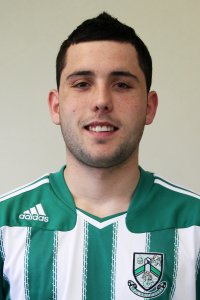 (DOB: 08/09/89), Defender.
Dave made a first team appearance in May 2008 in a League Cup second round victory over Shamrock Rovers. He has made over 100 appearances in all competitions for Wanderers since then.
Dwayne Wilson

(DOB: 14/06/87), Midfielder.
Dwayne came to Bray in July 2013 following his release by Bohemians. He started his senior career in UCD in 2010, having been in the club's Leinster Senior League team. In the 2011 season he moved to Waterford United, and he signed for Bohemians in January 2012.
Dean Zambra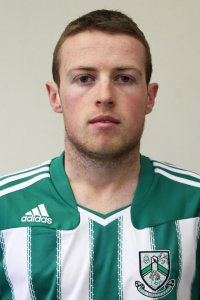 (DOB: 30/07/88), Midfielder.
Dean made his first team début in the final game of the 2008 season away to Sligo but had to wait until 2010 to return to the first team. He has been a regular in central midfield since then.
Pen pics by Michael Duffy.
Soccer clubs and programme editors are welcome to use original material from this site. Please credit the website braywanderers.com for anything you use.