The current members of the Bray Wanderers squad:
Daniel Blackbyrne

(DOB: 13/07/96, Kent, UK), defender
Previously played for Enniskerry FC and St Josephs. WDSL League and Cup medals, DDSL League and Cup medals and was WDSL and DDSL Player of the Year. Made senior debut in the friendly against Queens Park Rangers in July 2014. Played for Under 19 team in 2014/15 season.
Ryan Brennan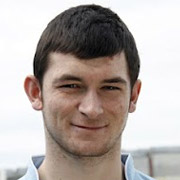 DOB 11/11/1991. Ryan played all the way up through the underage system at Drogheda Boys and joined the Drogheda United Youth side in 2007. Made his first team debut in 2010. In 2011 he signed for Mick Cooke at Monaghan United. In 2012 Ryan was back at Drogheda United, again signing for Mick Cooke. In December 2013 Ryan moved to Shamrock Rovers. Ryan continued to play for the Hoops in 2015 and played in three of the club's Europa League matches as Rovers went out to Norwegian side Odds. In December 2015, Ryan moved to Bray Wanderers.
Alan Byrne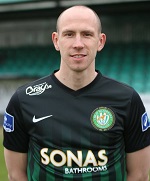 DOB; 21/07/1983, Dublin. Defender.
Alan began his career at Bohemians in 2002 and he then had a successful time at Monaghan United in 2003. At the start of the 2004 season he signed for Kildare County. Alan left Kildare to sign for Shelbourne in the 2008 season. He spent just one year at Tolka Park and signed for his second spell at Monaghan United in January 2009. Alan was voted Player of the Year at Monaghan for 2010. He made 24 league appearances to help Monaghan to promotion at the end of 2011. Alan played with the team until June 2012 when Monaghan United withdrew from the League due to financial pressures. He then signed for Mick Cooke at Drogheda United. In 2013 He played in three cup finals, but Drogheda lost in each of the Setanta, EA and FAI Cup deciders. Alan then followed manager Mick Cooke to Athlone Town who he signed for at the end of the 2013 season. Alan was made captain of the side and played twenty-six times for the club, In 2015 Alan returned to Drogheda United. He signed or Bray Wanderers in November 2015 on a two year contract.
Troy Carey
Midfielder. 16/01/1997. Troy played for UCD's u19 squad for the 2014/15 season before moving to Bray Wanderers u19s for the 2015 and 2016 seasons. Troy won the FAI Umbro U17 Cup with Cherry Orchard in 2014.
Peter Cherrie

(DOB: 01/10/1983, Belshill, Scotland), Goalkeeper
Peter started his career as an 18 year old at Airdrie United in 2002. He made just one senior appearance in two years at the club before a short spell at Junior side Kilsyth Rangers brought him to the attention of Ayr United. Peter made six appearances at Ayr before leaving at the end of the 2004/05 season. Joined Clyde at the start of 2005/06 and spent three years there before being released in June of 2009. Signed for Dundalk in July 2008. In 2010 he was voted Dundalk's Player of the Year. In the 2014 season he started all thirty-three league games As Dundalk won the premier division title. In January 2015 he joined Cliftonville. Peter then moved back to the League of Ireland by signing with Bray Wanderers in July of 2015. Supporters club Plyer of the month for July 2015.
Dylan Connolly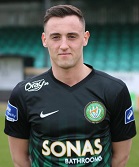 DOB 22/5/1995. Midfielder. Dylan was a member of the Bohemians U19 squad for the 2012/2013 season and he made his league debut for the Gypsies on 19 October 2012 when he cane on as a late substitute in a 4-1 win over Bray Wanderers. In February 2013 he made the short move to Tolka Park to join Shelbourne's U19 squad. His league debut for the Reds came as an 88th minute sub against Shamrock Rovers on 30 August 2013 and he made 5 league appearances that year as Shels were relegated from the Premier Division. The drop to the First Division opened the door for Dylan and he scored his first league goal for Shels on the opening weekend of the 2014 season. He went on to top the club's goal-scoring charts with 12 league strikes from 22 league appearances as the Reds narrowly missed out on promotion. In February 2015 Dylan signed for Mick McCarthy at Ipswich Town. He signed for Bray Wanderers in December 2015.
Robbie Creevy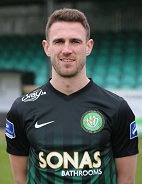 Born: 24 Aug 1989, Dublin. Midfielder. Robbie, a product of the Cherry Orchard youth system. He joined Shamrock Rovers in 2007 and quickly established himself in the club's U21 squad. Robbie signed for UCD at the start of 2009 and UCD won the First Division title that year. Robbie played a key role in the club's return to the Premier Division, making 26 league appearances in 2010 and a further 22 in 2011. He took time out to travel in 2012 but returned to the UCD ranks in time for the start of 2013. Robbie added a further twenty seven appearances for the club as they finished tenth in the table, just above the relegation play-offs. He stayed on at UCD for the 2014 season and played thirty-three league games for the Students, scoring twice, as they lost to Galway FC in the relegation play-offs and were relegated as a result. In December 2014, Robbie signed for Bohemians and went on to make twenty-one appearances during the 2015 season, scoring two goals. In December 2015, Robbie moved to Bray Wanderers.
Mick Daly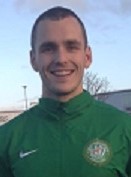 DOB 10/01/1989, Dublin. Defender Mick signed a two year deal for Wanderers in November 2015 after leaving Drogheda United. Michael was released by Manchester City in the summer of 2008 after three years with the club. He signed Dundalk in February 2009 and made 31 appearances that season. In 2010 he moved to Drogheda United where he made 33 appearances that season. He emigrated at the end of the 2010 season but returned to Ireland to re-join Drogheda United in February 2013. Michael played 24 league games for Drogheda in the 2013 season and he also played in three cup finals in 2013, though Drogheda lost all of them, as well as in both legs of the club's Europa League tie against Malmo FF.
Hugh Douglas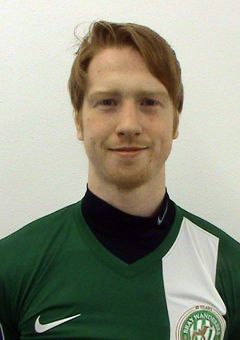 (DOB: 22/06/93, Wicklow), Defender
Hugh Douglas joined UCD from Belvedere, where he had won the FAI Under-17 All Ireland. He has represented his country at U21 level, and was in the Ireland International Schools squad where he was named Player Of The Year in 2011. He signed for Bray in December 2014. Supporters club Player of the month for May and August 2015.
Conor Earley

(DOB: 28/05/93), Midfielder.
Made his debut away to Drogheda United in October 2011. Conor has played for the under 19's for the last two seasons and had made five first team appearances prior to 2013 season. Returned to Wanderers in February 2016.
Sean Fogarty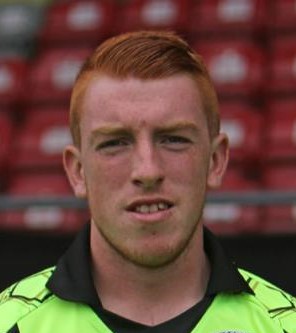 DOB 16/8/1997. Goalkeeper. Under 19's team player who joined from Home Farm
Sean Harding
DOB 17/9/1988. Sean is a full back who spent six years with Crumlin United before joining UCD. He was a member of the club's A Championship side that won the 2008 title and made his debut on 21 April that year in a 2-0 League Cup win over St Patrick's Athletic. His league bow came in May as a substitute in a 0-0 draw, also against St Patrick's Athletic, at Richmond Park. Sean soon established himself in the senior side at Belfield and was part of the team that won the 2009 First Division title. As the club returned to the Premier Division in 2010, Sean made 15 league appearances, adding another 17 in 2011. In January 2012 Sean announced that he was leaving UCD and emigrating to Australia. He joined Limerick FC for their 2015 Premier Division campaign. Sean went on to make thirteen appearances for Limerick, scoring once when a bizarre long range freekick beat Dundalk, before he left the club by mutual consent in August 2015. Joined Bray Wanderers in February 2015.
Dean Kelly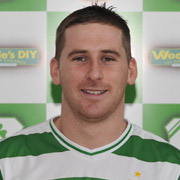 DOB 18/09/1985. Striker. Dean began his career at Tolka Rovers but was also a part of the 2010 Crumlin United squad that reached the third round of the FAI Cup. However Kelly's performances led to a trial at Oldham Athletic where boss Paul Dickov was impressed enough to offer the Dubliner a sixth month contract. In his time at Boundary Park Kelly made 15 competitive appearances and scored one goal, in a 4-2 win over Plymouth Argyle. In January 2011 he joined Shamrock Rovers. Dean made 11 league appearances in 2011 and scored one league goal. In February 2012 Dean moved St Patrick's Athletic. In December 2012 Dean signed for Shelbourne. He signed for Shamrock Rovers in February 2014. In December 2014 he signed on for Bohemians. Dean scored five goals in sixteen appearances for Bohemians. In July 2015, Dean moved to Longford Town and finished the season with four goals in twelve games for the Midlands club as they finished sixth. In December 2015, Dean moved to Bray Wanderers.
Conor Kenna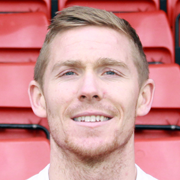 21/08/1984, Dublin. Defender. Conor is a product of the Cherry Orchard under-age set up and also had a three year spell at Coventry City as a trainee before returning to Ireland to sign for Shelbourne in 2003, where he became an integral of the club's U21 squad. In 2004 Conor signed for UCD where he quickly became first choice in the Student's defensive line. In 2009 Conor moved to Drogheda United and 2010 played for St Patrick's Athletic. Conor was ever present in the St Pats defence in 2010 but injury struck in 2011, limiting him to 15 league appearances. In 2013 Conor only missed four games as St Pats won the league with Kenna as captain of the side. In October 2013, Conor joined Shamrock Rovers from St Patrick's Athletic. Conor was made the captain of the side and played in twenty-eight league matches for Shamrock Rovers as they secured European football for another year with a fourth place finish in the 2014 Premier Division. Conor stayed with Rovers for the 2015 season and went on to make twenty-eight league appearances. He also played in both of the club's Europa League matches against Odds as Rovers went to the Norwegian side. In December 2015, Conor moved to Bray Wanderers.
Jason Marks

DOB 02/05/1989, Dublin. Midfielder. Jason is a former Killester United player who spent some time at Sporting Fingal under Liam Buckley and was a part of their 2010 A Championship side. However he failed to break into the first team and in February 2011 he signed for Monaghan United. When Monaghan withdrew from the league Jason signed for Mick Cooke at Drogheda United. He played in the league seven times for Drogheda, scoring one goal against Bray Wanderers in a 3-1 win. Jason played 10 times during the 2013 league campaign for Drogheda as they finished in eighth place and was also part of the matchday squads when the club lost out in both the EA and FAI Cup finals. In November 2013 Jason followed manager Mick Cooke to newly promoted Athlone Town for the 2014 season. Jason left Athlone in July 2014. In February 2015 Jason returned to Drogheda United, signing for new boss Johnny McDonnell. He made thirty league appearances for the club, scoring once. In December 2015, Jason moved to Bray Wanderers.
Gareth McDonagh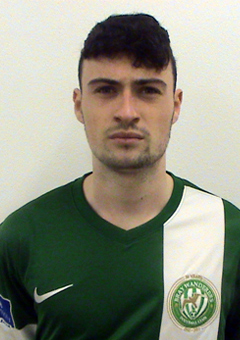 (DOB: 27/02/96), Midfielder
Gareth, who hails from Greystones, began his football career with St Anthonys in Wicklow before moving to St Josephs Boys in Sallynoggin. Midfielder Gareth won the RTÉ Football's Next Star competition in 2012 and moved to Glasgow Celtic's Youth Academy. He signed for Bray Wanderers in July 2014.
Stephen McGuinness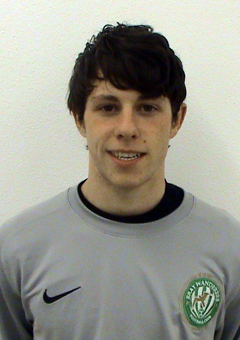 (DOB: 10/03/95), Goalkeeper
Previously Bray's Under-19 team first choice keeper, Stephen made his senior debut in the Leinster Senior Cup victory over Tolka Rovers in May 2013. He has made an impressive first team contribution in 2014 in the absence of Darren Quigley. Supporters Club Player of the Month for April 2014 and June 2015.
Alan McNally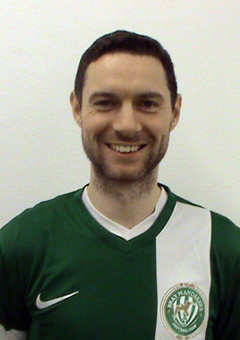 (DOB: 15/9/82, Drimnagh), Defender
Alan developed at Dublin schoolboy club Belvedere, where he was capped for Ireland at U16 and U17, and signed for UCD in 1999. In ten years at Belfield he made 243 league appearances, mainly as a centre back but also, on occasion, in centre midfield. In February 2009 he joined Drogheda United and was made club captain by then manager Alan Mathews. He made 32 league appearances in his first season at Drogheda and 35 more in 2010. He re-signed at Drogheda for new boss Mick Cooke and made 30 more league appearances in 2011, 27 league games in 2012, scoring five goals, and another 16 league appearances in 2013. Alan also played in three Cup Finals in 2013 as well as in both legs of Drogheda's Europa League tie against Malmo FF. Alan was once more a part of the Drogheda squad for the 2014 season, this time under manager Robbie Horgan. He signed for Bray in January 2015.
Karl Moore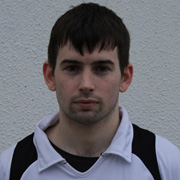 DOB 09/11/1988. Midfielder. Karl signed for Martin Russell at UCD in the summer of 2010 when he was released by Manchester City after four years at the club. Karl had previously spent time on loan at Millwall where he made six first-team appearances during the 2008/09 season. Karl made his debut for the 'students' in a 4-1 defeat against Shamrock Rovers at Tallaght in July and went on to make 10 league appearances in 2010. In February 2011 Karl moved to Galway United where he made 20 league appearances before leaving the club in July 2011 to sign for Michael O'Neill at Shamrock Rovers. He made only 3 league appearances by the end of the season. In January 2012 Karl signed for Bohemians under new manager Aaron Callaghan. He played 26 times in the league for Bohemians, scoring two goals. He then added another 29 appearances in the 2013 season as Bohemians finished tenth in the league. Karl played twenty-nine times in the league for Bohemians, scoring twice in 2014 season. In 2015 season he went on to make twenty-one league appearances, scoring once. Joined Bray Wanderers in December 2015.
Curtis Murphy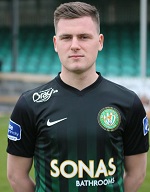 DOB 12/7/1996. Defender. Curtis joined from Shamrock Rovers where he was a key player in the Hoops u19 side. He captained the winning St.Patrick's Athletic under 19 side in the 2014/15 season. Joined Bray Wanderers in December 2015.
Paul Murphy

(DOB: 29/08/97, Wexford) defender
Previously played for Gorey Rangers and St Josephs. Has five Wexford League medals and a Wexford Cup medal to his name. Made senior debut in the friendly against MK Dons in July 2014. Played for under 19 team in 2014/15 season. Paul played for the Republic of Ireland Schools in March 2015 in their Centenary Shield victory 3-2 win over Northern Ireland.
Sean Noble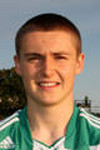 (DOB: 20/03/96), Midfielder/Forward
Sean signed for Bray Wanderers from Stella Maris in July 2013. Current Under-19 team player, Sean made his debut in the league game at home to Shamrock Rovers in July 2013 and made three first team appearances that season.
Ger Pender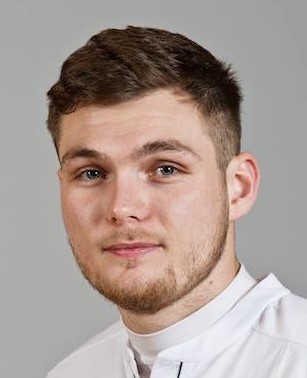 (DOB: 22/05/1994), Forward.
Signed from Belvedere in June 2011. Ger played for the U19s and made two first team appearances in the Leinster Senior Cup in 2012. Made his League début against Cork City in May 2013. Signed for Wayside Celtic in July 2013. Scored three times in 16 appearances for Cabinteely after having joined from Longford Town, and signed for Drogheda United in July 15. He returned to Bray Wanderers in December 2015.
Mark Salmon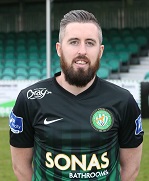 DOB; 31/10/1988, Dublin. Midfielder.
Mark began his career at Wolverhampton Wanderers in 2007. In December 2008 he went on loan to Port Vale where he played in the first team until his return to Wolves in January 2009. In 2009 he returned to Ireland to play for Drogheda United. Moved on to Athlone Town (2009) and Longford Town (2009 - 2014) Won the First Division title with Longford in 2014. Mark signed for Bray Wanderers in November 2015.
Pen pics by Michael Duffy.
Soccer clubs and programme editors are welcome to use original material from this site. Please credit the website braywanderers.com for anything you use.