The current members of the Bray Wanderers squad:
Michael Barker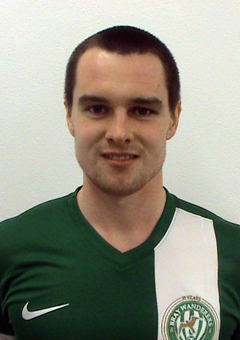 (Date of Birth: 16/08/93), Defender
Former Irish underage International Michael Barker signed from UCD. Capped at all levels from U15 to U19, and a native of Dublin he played with Bohemians U19s in 2011 and made his senior début for the club in their Leinster Senior Cup win over Shamrock Rovers in July 2011. Michael's league début came the following season as a substitute against Derry City at Dalymount Park in May 2012. He went on to make a further fourteen appearances that season. Michael stayed with Bohemians for 2013 before moving to UCD with whom he made 11 appearances.
Daniel Blackbyrne

(DOB: 13/07/96, Kent, UK), defender
Previously played for Enniskerry FC and St Josephs. WDSL League and Cup medals, DDSL League and Cup medals and was WDSL and DDSL Player of the Year. Made senior debut in the friendly against Queens Park Rangers in July 2014. Played for Under 19 team in 2014/15 season.
Alan Byrne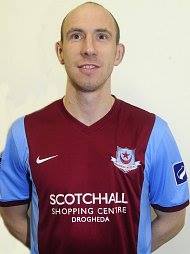 DOB; 21/07/1983, Dublin. Defender.
Alan began his career at Bohemians in 2002 and he then had a successful time at Monaghan United in 2003. At the start of the 2004 season he signed for Kildare County. In November 2007 Alan left Kildare to sign for Shelbourne where he made 17 league and cup appearances in the 2008 season. He spent just one year at Tolka Park and signed for his second spell at Monaghan United in January 2009. Alan was voted Player of the Year at Monaghan for 2010. He made 24 league appearances to help Monaghan to promotion at the end of 2011. Alan played with the team until June 2012 when Monaghan United withdrew from the League due to financial pressures. He then signed for Mick Cooke at Drogheda United. Alan finished up with 13 league appearances for Drogheda as they finished second behind Sligo Rovers. Alan played in 24 league games, in 2013, scoring once. He played in three cup finals, but Drogheda lost in each of the Setanta, EA and FAI Cup deciders. Alan then followed manager Mick Cooke to Athlone Town who he signed for at the end of the 2013 season. Alan was made captain of the side and played twenty-six times for the club, In 2015 Alan returned to Drogheda United. He signed or Bray Wanderers in November 2015 on a two year contract.
David Cassidy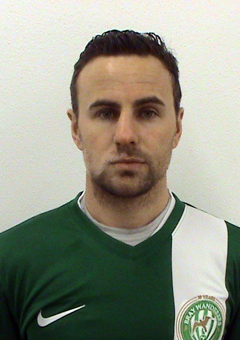 (DOB: 23/05/85, Ringsend, Dublin), Midfielder
Dave Cassidy began his career with local junior club Cambridge, before moving on to Home Farm, and joined Derby County at the age of 17. Returning in 2005, he signed for Kilkenny City and from there followed Pat Scully to Shamrock Rovers, staying with the Hoops as they returned to Premier football. Dundalk was next, for two seasons, followed by four with Shelbourne and in 2013 he was at Drogheda United. He signed for Bray Wanderers in January 2014.
Corey Chambers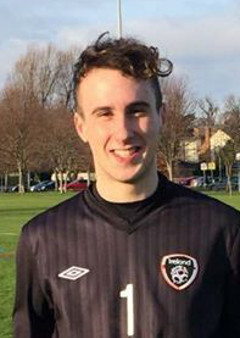 (DOB: 11/01/1998), Goalkeeper
Corey played for St Kevins Boys and Lucan United before signing for Bray Wanderers U19 squad in July 2015. He is a former Ireland U15 and Schools international.
Peter Cherrie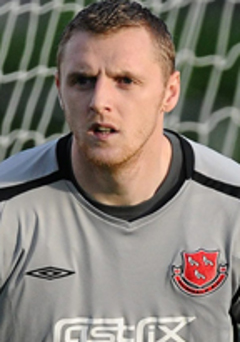 (DOB: 01/10/1983, Belshill, Scotland), Goalkeeper
Peter started his career as an 18 year old at Airdrie United in 2002. He made just one senior appearance in two years at the club before a short spell at Junior side Kilsyth Rangers brought him to the attention of Ayr United. Peter made six appearances at Ayr before leaving at the end of the 2004/05 season. Joined Clyde at the start of 2005/06 and spent three years there before being released in June of 2009. Signed for Dundalk in July 2008. In 2010 he was voted Dundalk's Player of the Year. In the 2014 season he started all thirty-three league games As Dundalk won the premier division title. In January 2015 he joined Cliftonville. Peter then moved back to the League of Ireland by signing with Bray Wanderers in July of 2015. Supporters club Plyer of the month for July 2015.
Niall Cooney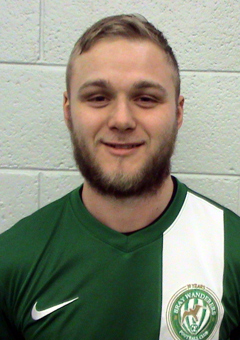 (DOB: 21/08/92), Defender
Signed for Bray in July 2013 from Crumlin United. Niall made four league appearances in 2013 season. After a short return to Crumlin, re-signed for Bray in January 2014.
Mick Daly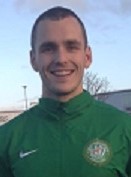 DOB 10/01/1989, Dublin. Defender Mick signed a two year deal for Wanderers in November 2015 after leaving Drogheda United. Michael was released by Manchester City in the summer of 2008 after three years with the club. He signed Dundalk in February 2009 and made 31 appearances that season. In 2010 he moved to Drogheda United where he made 33 appearances that season. He emigrated at the end of the 2010 season but returned to Ireland to re-join Drogheda United in February 2013. Michael played 24 league games for Drogheda in the 2013 season and he also played in three cup finals in 2013, though Drogheda lost all of them, as well as in both legs of the club's Europa League tie against Malmo FF.
Hugh Douglas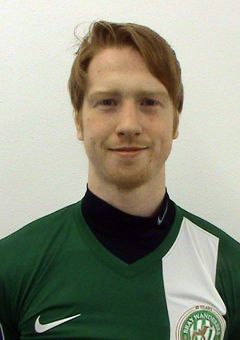 (DOB: 22/06/93, Wicklow), Defender
Hugh Douglas joined UCD from Belvedere, where he had won the FAI Under-17 All Ireland. He has represented his country at U21 level, and was in the Ireland International Schools squad where he was named Player Of The Year in 2011. He signed for Bray in December 2014. Supporters club Player of the month for May and August 2015.
Luke Fitzpatrick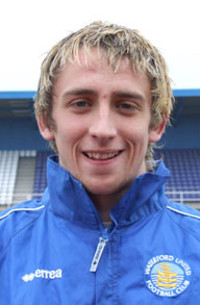 (DOB: 23/01/1986, Dublin), Midfielder
Luke played his schoolboy footbal with Quarryvale, and was with Wolverhampton Wanderers and Kidderminster before signing for St Patricks Athletic in 2005. He was principally an Under-21 player there, and was the club's U21 Player of the Year. He played half a season on loan to Monaghan United in 2007 before being signed to Waterford the following season. In 2011, he signed for Southern Stars in Victoria, Australia, moving to South Springvale & Bentleigh Greens and finally to Mornington SC in the same league for the 2014 season.
Sean Fogarty
Goalkeeper. Under 19's team player who joined from Home Farm
Luke Gallagher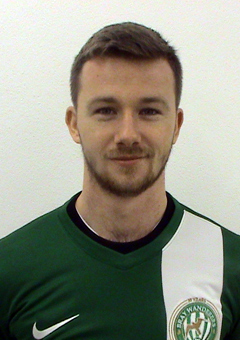 (DOB: 29/07/94), Midfielder
Luke played in the youth and development squad at Burnley before playing with the first team during the 2013 pre-season. He was released at the end of the 2013-14 season and signed for Shelbourne in August 2014. He made his debut in August 2014 and he made seven league appearances in the final months of the season. Luke also played in two FAI Cup matches and both of the club's promotion play-off games against Galway FC. He signed for Bray in January 2015.
Adam Hanlon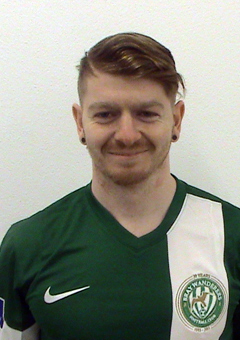 (DOB: 03/06/92), Midfielder
Signed in January 2012 from Arklow Town. Won the LFA youth cup in 2010 with Arklow and was on the Wicklow Under-18 squad that finished runners up in the FAI youth Interleague trophy in 2010. He signed for Bray Wanderers originally in January 2012 and made his debut in the Setanta Cup against Glentoran. Adam moved to Shelbourne for the 2013 season playing under Alan Mathews and then Johnny McDonnell. He rejoined Wanderers in January 2014.
Chris Lyons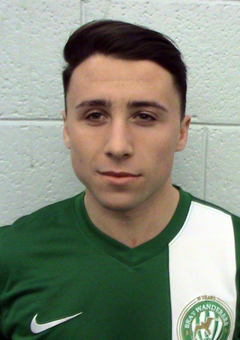 (DOB: 08/05/93, Dublin), Forward
Chris was at Belvedere before joining UCD in 2011. At the end of the 2012 season he left UCD to sign for Bohemians. In February 2014 he joined the Shamrock Rovers B team for their inaugural season in the First Division. He signed for Bray in December 2014.
Gareth McDonagh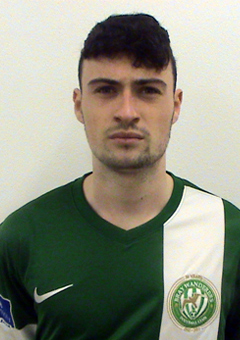 (DOB: 27/02/96), Midfielder
Gareth, who hails from Greystones, began his football career with St Anthonys in Wicklow before moving to St Josephs Boys in Sallynoggin. Midfielder Gareth won the RTÉ Football's Next Star competition in 2012 and moved to Glasgow Celtic's Youth Academy. He signed for Bray Wanderers in July 2014.
Stephen McGuinness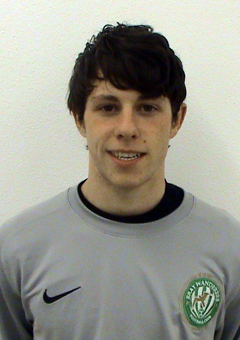 (DOB: 10/03/95), Goalkeeper
Previously Bray's Under-19 team first choice keeper, Stephen made his senior debut in the Leinster Senior Cup victory over Tolka Rovers in May 2013. He has made an impressive first team contribution in 2014 in the absence of Darren Quigley. Supporters Club Player of the Month for April 2014 and June 2015.
Alan McNally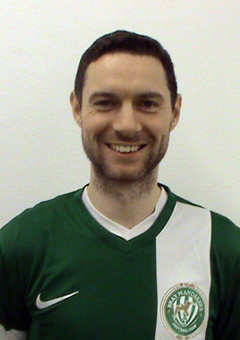 (DOB: 15/9/82, Drimnagh), Defender
Alan developed at Dublin schoolboy club Belvedere, where he was capped for Ireland at U16 and U17, and signed for UCD in 1999. In ten years at Belfield he made 243 league appearances, mainly as a centre back but also, on occasion, in centre midfield. In February 2009 he joined Drogheda United and was made club captain by then manager Alan Mathews. He made 32 league appearances in his first season at Drogheda and 35 more in 2010. He re-signed at Drogheda for new boss Mick Cooke and made 30 more league appearances in 2011, 27 league games in 2012, scoring five goals, and another 16 league appearances in 2013. Alan also played in three Cup Finals in 2013 as well as in both legs of Drogheda's Europa League tie against Malmo FF. Alan was once more a part of the Drogheda squad for the 2014 season, this time under manager Robbie Horgan. He signed for Bray in January 2015.
Paul Murphy

(DOB: 29/08/97, Wexford) defender
Previously played for Gorey Rangers and St Josephs. Has five Wexford League medals and a Wexford Cup medal to his name. Made senior debut in the friendly against MK Dons in July 2014. Plyaed for under 19 team in 2014/15 season. Paul played for the Republic of Ireland Schools in March 2015 in their Centenary Shield victory 3-2 win over Northern Ireland.
Daniel O'Reilly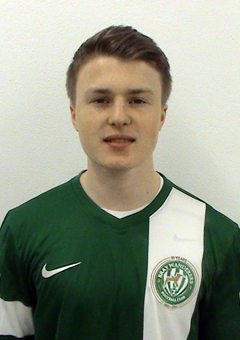 (DOB: 11/04/95, Dublin), Central defender
From Cherry Orchard, Daniel signed under-age terms with Fulham in 2011 and featured regularly as a key player for the Fulham U18 squad in 2012/13. He was on loan thereafter, and in August signed terms with Hereford United. He has captained Ireland at under-age levels. Signed for Bray December 2014.
Mark Salmon

DOB; 31/10/1988, Dublin. Midfielder.
Mark began his career at Wolverhampton Wanderers in 2007 although he failed to make a first team appearance in his two years at the club. In December 2008 he went on loan to Port Vale where he played in the first team until his return to Wolves in January 2009. Mark was released by Wolves early in 2009 and returned to Ireland to play for Drogheda United where he made three league appearances before moving on to Athlone Town during the summer transfer window. He played out the remainder of the 2009 season at Athlone before signing for Tony Cousins at Longford Town prior to the start of the 2010 season. Mark scored twice in 32 league appearances in his first season at Flancare Park and added 28 more league appearances the following year, scoring eight league goals. Mark stayed with Longford for the 2012 season and played twenty-six times, scoring three goals, Mark and Longford had a good 2014, as the midfielder made twenty-five appearances for the club, scoring five goals, as they won the First Division title. Mark signed for Bray Wanderers in November 2015 on a two year contract
David Scully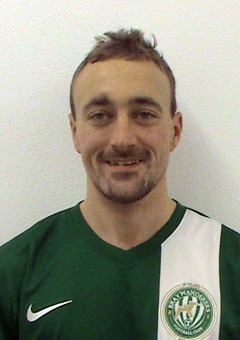 (DOB: 20/01/85), Forward/Midfielder
David spent some time with Carlisle United before returning to Ireland and played with Mullingar Athletic and O'Devaney before lining out for Kildare County (2005/06). He moved to Malahide United in the Leinster Senior League in 2007 before making his return to League of Ireland football with Monaghan United in 2008. He signed for Bohemians in January 2012 from AUL side O'Devaney/Dunard. David scored for Bohemians in the Europa League match against Ţór Akureyri in July 2012. At the end of the 2013 season he signed for non-League side Ballymun United before joining Bray Wanderers in February 2014.
John Sullivan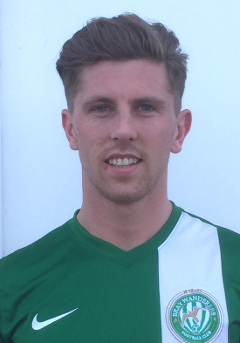 (DOB: 06/01/91, Dublin), Midfielder
John previously played with Dundalk, Shelbourne and Limerick FC. He played youths football in Dublin with Lourdes Celtic and Crumlin United before signing with Bohemians and playing with their U20 side. In February 2009 he moved to Scotland where he spent a season and a half at Hamilton Academical. At the end of 2009/10 he returned to Ireland and signed for Pat Scully at Limerick FC in June. He spent the remainder of the 2010 season there making 13 league appearances and scoring two league goals. In February 2011 John signed for Shelbourne and played in the FAI Cup final. He left Shels in July 2012 and signed for Drogheda United. He made his Drogheda debut in a 4-1 defeat to Sligo Rovers on 04 August and his first goal was an injury time winner against Dundalk. in January 2013 he signed for Dundalk and spent a season there before returning to Shelbourne in January 2014. In December 2014, John once again returned to a former club, this time signing for Crumlin United. Signed for Bray Wanderers in June 2015.
Thomas Walsh

(DOB: 22/07/97), Defender
Previous clubs were St Josephs and Home Farm. Made senior debut in the friendly against Queens Park Rangers in July 2014. Played for Under-19 team in 2014/15 season.
Adam Wixted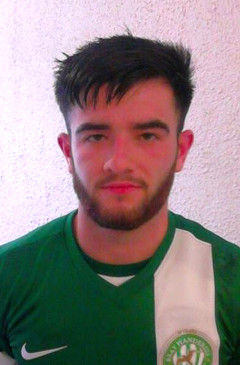 (DOB: 08/03/95), Forward
Former Ireland U16 and U18 player Adam signed professional terms for Derby County in 2013 having impressed during two years at the club's academy, following his time in Dublin schoolboy club Stella Maris, but was released by the Rams in summer 2014. By that stage he had also appeared for the Ireland Under-19s. He signed for Drogheda United later that summer (appearing against Bray in United Park in September), but moved to Bohemians the following January. An attacker, he also plays on the wings.
Pen pics by Michael Duffy.
Soccer clubs and programme editors are welcome to use original material from this site. Please credit the website braywanderers.com for anything you use.