On a Lighter Note
Bray Wanderers' April Fool this morning was a rare enough example of a well-planned joke in a sporting industry not known for its capacity for humour, and in which a famous manager could say quite seriously that football was more than a matter of life and death, and be widely and approvingly quoted for years.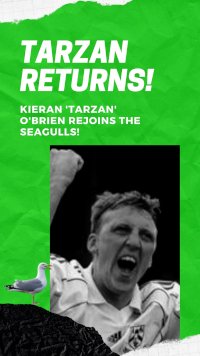 And after a fallow year, when 1 April 2020 was way too serious for jokes or pranks, it was good to see pranks returning again.
The Journal (thejournal.ie) carried a photo today of what it said was a barge carrying a massive new scuplture of Luke Kelly, which had become wedged across the Royal Canal, in Dublin - a good example of a topical tie-in.
In South Australia, the police force got into the foolish spirit, announcing that dachshunds, the so-called sausage dogs, were joining their dog squad.
"We're … going to be able to attach them to drones and that's really a game-changer for us. They can be tactically deployed from that – you know, dropped down into people's yards," Sergeant Simon Rosenhahn said in a promotional video featuring the policeman cuddling up to the new recruits.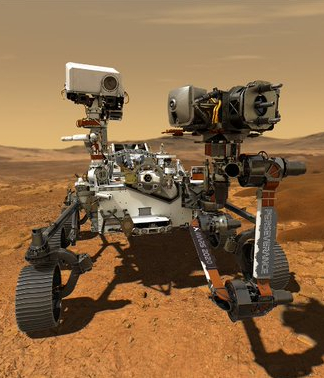 And NASA reported shockingly that the Perseverance Rover currently exploring Mars has collected what appears to be plastic debris.
Mission Director Davis Jones said it was difficult to say what the items were originally, but "many are ... similar to a typical plastic straw, fork or stirrer found on Earth."
The origins of the tradition are, appropriately, shrouded in mystery, but references in Geoffrey Chaucer's 14th century Canterbury Tales are sometimes taken to note its existence in England that far back.
Certainly, there is a clear mention of a poisson d'avril (April's fish) in a French poem of 1508, and that's what it is still called in French-speaking countries.
Some common April fool tricks were of the 'kick me' variety, while in Scotland, where terms for it refer to 'hunting a cuckoo', it involved asking someone to deliver a sealed letter which asked the recipient to send the fool on to another person.
Over the more recent past, pranks have become more elaborate.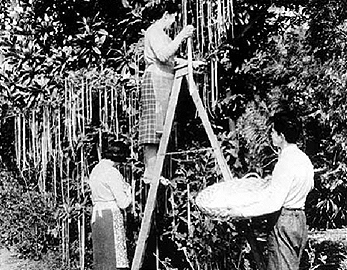 Among the best seasonal fools ever are the BBC's Panorama programme special report on the Spaghetti harvest of 1957. Thousands of viewers, for whom the pasta dish was an unknown and exotic food, believed the programme's message that is was grown in fields.
In 1998, the Burger King chain cooperated with the USA Today newpaper to promote an innovative new fast food offering - the left-handed burger.
But possibly the best received prank was the Guardian's 7-page travel supplement in 1977 on the fictitious Indian Ocean island nation of San Serriffe, where everything, including its leading citizens, was named after typefaces and printing terms.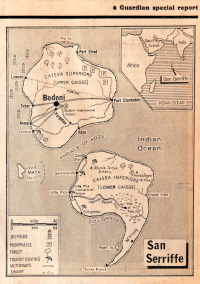 The fully detailed map showed the country in the shape of a semi-colon.
Part of the spoof's success came from the fact that not only was it extensive, with journalists and editors throughout the paper all in on it, but the commercial department was also roped in.
Themed advertisements for insurance brokers, soft drinks and fine bone china and others were coordinated and designed to accompany the articles and photos in the supplement.
The hoax was so well received that the Guardian ran 'San Serriffe' stories on 1 April for two years after that - despite the certainty that no-one much would be fooled by it a second time - and a 'return to San Serriffe' feature in 1999.
But when genuine news is reported on April Fools' Day, there is a risk that it will be misinterpreted as a joke and ignored. In 1946, for example, a massive undersea earthquake in the Aleutian islands near Alaska in the early hours of 1 April generated a huge tsunami that inundated Hawaii hours later, and killed 159 people. No precautions had been taken anywhere, as the initial news reports were taken to be hoaxes.
When Google, known to play elaborate April Fools' Day hoaxes, announced the launch of Gmail with 1-gigabyte inboxes in 2004, many dismissed it as a joke outright, as such large facilites were way outside the scale of other email services. It was no joke.
And if the hoaxes are believed, they can have unhappy consequences - especially for their perpetrators.
Boston television station WNAC-TV aired a news item at the end of the 6 o'clock news on 1 April 1980 which reported that Great Blue Hill in Milton, Massachusetts, was erupting. The report resulted in panic in Milton, where residents began to flee their homes. The executive producer, Homer Cilley, was fired.