World Cup Convert
Davy Williamson
Bray Wanderers & Hong Kong?
Being the only foreigner in the family didn't seem to affect young David Williamson's formative years, though it led to a strange episode and a curious opportunity later on.
Born in Hong Kong in 1975, while his father – also Dave – was working there, his family returned to Enniskillen when he was just two, and his sister and three brothers were all born there.
Games at school in St Michael's Primary and St Joseph's Secondary were of the GAA variety, and he dutifully appeared, going as far as county level football for Fermanagh under sixteen. But at that stage, track and field athletics were his forte, hurdles, long jump and triple jump bringing him to Santry with the Ulster squad for an interprovincial meeting at which Merseyside made up the fifth Green Field!
That was the year Jack's Army shuttled in the Italian islands and wound up in Rome, and the 15-year-old was captivated. "I realised I had a decision to make," he says, "I couldn't play soccer in addition to GAA, and keep up athletics as well."
The decision, once school was finished, was to go to Belfast, to a soccer School of Excellence operated by the Youth Training Scheme at Castlereagh College on a two year course, during which he was signed as an under-age player for Crusaders.
He made his debut for the Crues in the County Antrim Shield quarter final against Larne. Brought on for the last quarter of an hour, he scored the winner in a 4-3 scoreline, and went on to make a handful of appearances in first team League games that season – in a team which included one Roddy Collins, which was to have consequences later.
Towards the end of that 1993/94 season the College took a squad to Scotland for a tournament, and a remarkable seven of the Northern Ireland lads were invited for trials at Motherwell, including Davy and Roy Essandoh, who this past March scored Wycombe Wanderers' historic last minute winner in the FA Cup quarter final at Filbert Street.
After trials, three two-year contracts at Fir Park were on offer, and Davy's travels were really under way.
It was mostly reserve team appearances but, to his delight, it meant lining out against the Bhoys in Celtic Park, and Rangers at Ibrox – the full treatment. "They've changed to an under-21 league now, too, which is great in one way," Davy remarks, "but it often means 24- and 25-year-olds are left with no game opportunity at all when managers need the limited overage slots for first team regulars coming back from injury."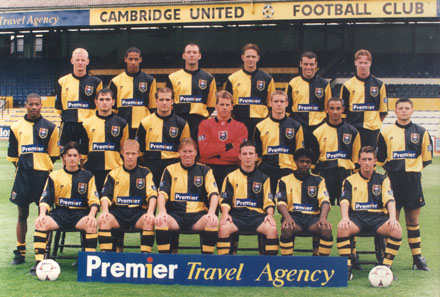 He did play a few games with Motherwell's first team, including a League Cup appearance against Stirling Albion, but it was hard to break in on a regular basis. At the end of his contract, he signed for Cambridge United where he had more access and played pretty regularly, including appearances in the FA and English League Cups.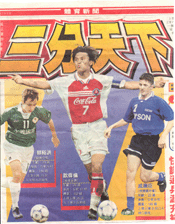 Then the curious opportunity presented itself. A scout approached another Cambridge player with an offer from, of all places, Hong Kong. Not interested, he nevertheless mentioned it to Davy, who in short order found himself trialling and then signing for Yee Hope (later Orient & Yee Hope Union), a Hong Kong First Division club which was delighted to find its new acquisition wouldn't take up any of its "4 foreign players" quota!
Not only that, but he was soon invited to pre-Asian Games training with the Hong Kong national squad, though he didn't make the final selection.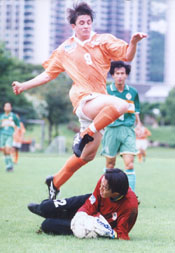 Coincidences abound in football, and in his first game for Yee Hope, a Cup match, among those who lined out for their opponents, Rangers, was one Kevin Hunt, with whom Davy would play in the future.
That spell in the East was broken by a Christmas visit home, and girl-friend Joanne discovered she was seriously homesick. Davy duly secured a release from Yee Hope and came back to her in Cambridge. To keep his hand (or rather his feet) in, he played non-league with Kettering Town for a short time, but then another Hong Kong club, Instant-Dict (those names!) came looking for him. The lure of the Orient was too strong, and he was off again.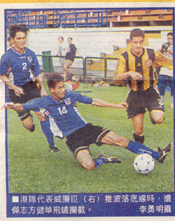 Again he was sought for the national squad, and this time he played in a couple of friendlies – against Chinese mainland provincial teams like Quangzhou, and in Shinzen. He thus joined an elite group of footballers who have played under two flags, having earlier lined out with a Northern Ireland under-19 selection against Chile at Ballinamallard.
But this was a shorter commitment and he was soon back in Cambridge, where the phone rang one day and Davy found an anxious Tommy Cassidy on the other end: Sligo Rovers needed a winger; would Davy come and see whether he'd like the berth?
As it turned out, he was only to play one match for Sligo, against Bohemians. Former Crusaders team-mate Roddy Collins seemed keen to renew acquaintance, and a move to Dalymount soon followed.
Rather too soon, in fact. Mr Cassidy – again short a winger – was not impressed, and a bit of legal unpleasantness, with Davy as a sort of football in the middle, ended with his being precluded from lining out with the Gypsies until the end of the season.
But that coincided nicely with Bohs' return to Europe and having sat on the bench in Aberdeen, Davy saw action as a sub in the Kaiserslautern home game. He started in the German leg, and set up Glen Crowe for the winning goal. "That was the best night ever, the high point of football for me so far," he recalls. "There were eleven Men of the Match on the pitch that night as far as I was concerned."
Even though he missed five weeks soon after, with what he calls "a niggly hamstring" he picked up in the League Cup against Dundalk, he made ten more appearances with Bohs before what seemed like a change of strategy by Collins – putting more emphasis on midfield development than on wing-based attack – left him, as it's said, 'surplus to requirements' there.
He took up a loan offer by Bray in early 2001, and applied for a transfer at the end of that season.
Although a little disappointed not to have had a few more chances to line out with the first team (he's only made 10 appearances in all to date), Davy has enjoyed his time at the Carlisle. "Bray's squad is as good as any in the League," he asserts, "but maybe this season people are expecting as routine things that were surprises when they happened last year."
In the dressing-room, he's often called 'Willow', for the obvious reason, though it does sound suitably oriental, or 'Jasper', for a less obvious one: getting to know the lads, he once lightheartedly called Jason Byrne 'Jasper'. Jayo returned the compliment, and the nickname stuck … to Davy!
Transfer-listed as this goes to press, Davy is philosophical about the future. "Who knows where I'll end up this time!" he says. "Players like me are never going to make Beckham-style money, but if I can see the world by playing football, that's great."
Way to go, Willow!
be Mícheál Ó hUanacháin
first published in Seagull Scene, December 2001