BRAY WANDERERS 0-3 SHELBOURNE
		           Byrne 25

		           D Baker 47 p

		           R Baker 64
Premier Division
Carlisle Grounds
9 September 2001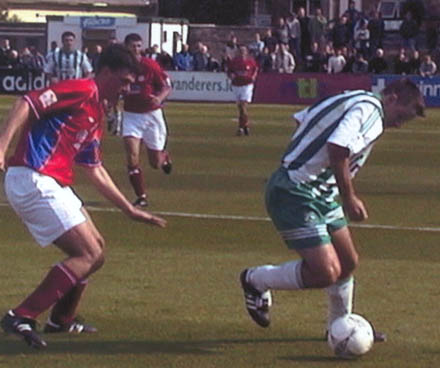 SHELS FIND IDEAL TONIC IN THREE GOAL SHOW
By David Mervyn
Shelbourne took the points in a one sided affair at the Carlisle Grounds. The home side struggled to look anything like the side who thrashed Dermot Keely's side 3-0 in the corresponding fixture last year. Goals from midfielder Davy Byrne and two from the busy Baker brothers left Bray with five points from five and last year's League runners-up with the ideal tonic, following the sale of Richie Foran to Carlisle United last week.
A sizeable crowd, buffered by pockets of red and blue, watched a scrappy opening from both sides. The windy conditions did nothing to help either, as sliced clearances and scuffed shots were all too evident inside the opening quarter. Both Stephen Geoghegan and Barry O'Connor wasted opportunities, while referee Hugh Byrne turned a blind eye to some ferocious challenges and a half-hearted Shels penalty claim.
As sunshine broke out for the first time, the visitors took the lead on twenty-five minutes. Some neat build up play from Richie Baker and Pat Fenlon saw the ball cannon out from the Bray defence to an awaiting Davy Byrne. The number eight had time to control and, from the edge of the area, plant a thumping drive under the body of keeper Alan Young. Five minutes later, Byrne once again found himself with the chance to shoot; swivelling onto his right side, he volleyed his effort against the left-hand upright. Bray were struggling to keep pace with the Dubliners and were chasing shadows throughout an excellent spell of pressure for Shels. The visitors had claims for a penalty waved away by referee Byrne when Geoghegan seemed certain to score. Eoin Heary bombed down the wing, setting Richie Baker free. The winger outfoxed a covering Matt Britton and sent a teasing ball into the box that fell to Geoghegan, who stabbed his effort at a crowded goal line. Both Charles and Doohan combined to send the shot away, not before loud shouts had claimed a hand was involved.
A half-time roasting from Pat Devlin did little to liven up an unenthusiastic Bray, who fell further behind after two minutes of the second half had elapsed. Dessie Baker sent Young the wrong way with his penalty, after a wicked cross from the right led to a foul by Matt Britton on the Shels front-man Geoghegan. Shels began to assert their authority in midfield. Bray became loose and ragged in their play, lacking leadership from the likes of Eddie Gormley and Colm Tresson, who was switched from the right to centre of midfield after the second goal. Gormley picked up a card for a hefty challenge on Pat Fenlon, who was beating the former Pats man hands down in their midfield battle. Gormley was replaced by Thomas Morgan, another former Inchicore starlet, who had little impact on the game. The Bray front guard of Jason Byrne and Barry O'Connor offered very little in resistance and Gannon, Hutton and Doherty were rock solid at the back for the visitors. On sixty-five minutes, Shels went three up. A crisp passing move was switched from left to right by the impressive Davy Byrne who fed Dessie Baker. The number seven beat his man to find his brother arriving in the penalty box. He made no mistake and his effort was deflected into the empty net. Apart from a handbags incident between Wesley Charles and Dessie Baker, right under the noses of the vocal visiting Reds, the remainder of the game slipped away, as did Bray's home record of not having lost a League game since September of last year.
Dessie Baker ran riot in the last ten minutes. He was put clean through on goal, but was wrongly pulled back for a foul in midfield in favour of Shels, after good work by Fenlon. A few minutes later a Jonathan Minnock cross evaded two hapless Bray defenders and surprised Baker at the back post, who connected wildly and blazed over. Bray could have got a consolation in the last minute, but Mick Doohan's free header was always rising over.
Pat Devlin spoke of his disappointment afterwards. 'We just didn't play like we can today. It's very disheartening as a manager. A little bit of complacency has set in and we really needed the points today. I don't want us to take a step backwards from the great season we had last year. Shels were excellent, though, and passed and moved it about really well, they look strong this year.'
Bray Wanderers: 1 Alan Young; 2 Colm Tresson, 3 Maurice Farrell, 4 Wesley Charles, 5 Mick Doohan; 6 Eddie Gormley, 7 Barry O'Connor, 8 Matt Britton, 9 Stephen Fox; 10 Jason Byrne, 11 Philip Keogh
Subs: 12 Kieran O'Brien, 13 Dave Campbell , 14 Keith Long (for Britton, 67), 15 Thomas Morgan (for Gormley, 55), 18 Ciaran Ryan (for Farrell, 57)
Shelbourne: 1 Steven Williams, 2 Owen Heary, 3 Jon Minnock, 4 Kevin Doherty, 5 Peter Hutton, 6 Jim Gannon, 7 Dessie Baker, 8 Davy Byrne, 9 Pat Fenelon, 10 Stephen Geoghegan, 11 Richie Baker
Subs: 12 Brian Byrne, 13 Garreth Downey, 14 Trevor Fitzpatrick, 16 Glenn Downey, 17 Wesley Houlihan
Referee: Hugh Byrne