| | | |
| --- | --- | --- |
| BRAY WANDERERS | 0-1 | DUNDALK |
| | | Daryl Horgan 86 |
| | | Connor Malley m/pen 25 |
FAI Cup
Carlisle Grounds
18 Aug 2023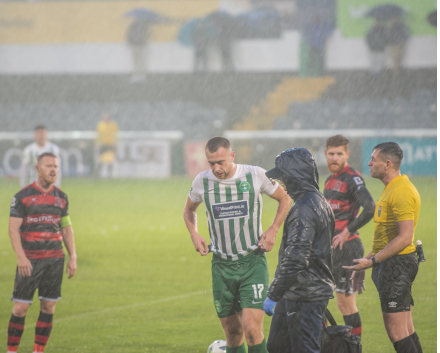 "Summer Soccer"!
Pic Gerry Kelly
It was a wonder that this game was played to a conclusion, given the conditions: incessant rain, increasing in intensity throughout the 90 minutes, with a wind that also grew as the match wore on.
The pitch surprised those watching by holding its surface, except in one corner during the final exchanges.
And it was probably a mercy that there was a winning goal, for the team that had the majority of both possession and territory for most of the two halves, but without being convincingly dominant in either.
Dundalk were awarded a soft enough penalty midway through the first period, but Connor Malley struck the crossbar and Matt Connor was able to claim the ball relatively easily after that.
Some doubt surrounded frees awarded later on, as players began to slip and fall on the greasy surface.
But it might have proved impossible to continue into extra time as the weather and the pitch began to deteriorate further.
Dundalk skipper Daryl Horgan gave the coup de grace with less than five minutes remaining, after a typically frantic passage of play in front of the Bray goal.
Full report to follow
Bray Wanderers: 45 Matthew Connor; 18 Max Murphy, 33 Seán Quinn, 12 Cole Omorehiomwan, 14 Dane Massey (c), 3 Len O'Sullivan; 7 Conor Crowley; 16 Callum Thompson, 17 Darren Craven, 21 Guillermo Almirall; 15 Ben Feeney
Subs: 1 Alex Moody (gk), 4 Jack Hudson, 5 Dave Webster, 8 Harry Groome (for Crowley 67), 19 Jake Walker (for O'Sullivan 89), 20 Conor Knight, 29 Daniel Chukwu (for Mahdy 81), 30 Zach Nolan, 32 Yousef Mahdy (for Feeney 67)
Dundalk: 1 Nathan Sheppard; 2 Archie Davies, 19 Darren Brownlie, 5 Louie Annesley, 18 Robert McCourt; 28 Ryan O'Kane, 27 Connor Malley, 15 Daryl Horgan (c)

, 20 Johannes Yli-Kokko; 7 Daniel Kelly, 11 John Martin
Subs: 3 Darragh Leahy, 4 Andy Boyle, 6 Alfie Lewis (for Yi-Kokko 75), 9 Patrick Hoban (for Martin 75), 10 Gregory Sloggett, 13 Peter Cherrie (gk), 14 Cameron Elliott, 22 Samuel Durrant (for O'Kane 39), 30 Mark Byrne (gk)
Referee: Rob Hennessy