| | | |
| --- | --- | --- |
| UCD | 3-3 | BRAY WANDERERS |
| Adam Farrell 14 | | Glen Hollywood 64 |
| Adam Lennon 19 | | Dean O'Shea 68 |
| Ciaran Behan 45 | | Charlie Gallagher 84 |
First Division
Belfield
09 Mar 2021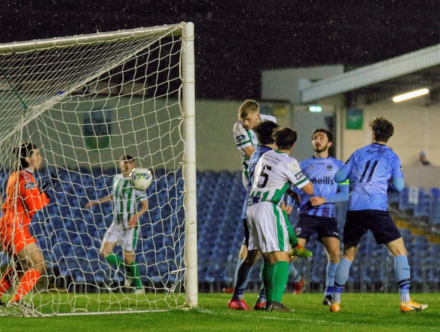 Holywood heads home past Henry
Pic Peter Minogue
A youthful Bray Wanderers came from three goals down at the interval to stage a dramatic second half recovery and earn a draw in this thrilling encounter.
Jack Hughes had the first chance of the game, forcing Carl Williams into a save after five minutes. Darragh Lynch fired a shot straight at Williams on 11 minutes.
The home side took the lead on 14 minutes when Adam Lennon picked out Adam Farrell who scored low past Kian Clarke. UCD added a second on 19 minutes when Adam Lennon raced through and slotted past Clarke.
Darragh Lynch fired over from long range for Bray on 38 minutes. The students added a third on the stroke of half time when Ciaran Behan curled a free kick over the wall and beyond the diving efforts of Clarke. On the stroke of half time, Joe Power's shot was saved onto the post by Williams. From the resulting corner, Lynch headed wide.
Wanderers had the wind and rain behind then in the second half. Just past the hour mark Wanderers began their recovery when Glen Hollywood headed home from a Joe Power corner on the left. On 68 minutes, a free kick from Power was cleared as far as Dean O'Shea on the edge of the area and he drilled a shot to the net past Cormac Henry.
Six minutes from time Wanderers drew level. Hollywood played substitute Charlie Gallagher through and he slotted past Henry. Wanderers almost won the game a minute from time. Darren Craven picked up the ball out left and turned in to curl a shot past Henry which rebounded off the UCD post.
Match report Michael Duffy
Bray Wanderers: 25 Kian Clarke (c), 12 Cian Maher, 17 Sean Callan, 18 Jonathan Leddy, 3 Dean O'Shea

, 8 Glen Hollywood

, 10 Joe Power, 14 Ross O'Brien, 7 Steven Kinsella, 19 Darragh Lynch, 11 Jack Hughes
Subs: 2 Toby Owens (for O'Brien 63), 15 Charlie Gallagher (for Kinsella 47)

, 16 Neil Langan (for Hughes 55), 20 Darragh Craven (for Lynch 79), 21 Richie O'Farrell (for Leddy 70), 22 Luka Lovic, 30 Jack Ross (gk)
UCD: 16 Carl Williams, 26 Isaac Akinsete, 4 Michael McHugh, 24 Harvey O'Brien, 5 Luke Boore, 23 Evan Farrell, 15 Adam Verdon, 11 Ciaran Behan

, 18 Donal Higgins, 12 Adam Lennon

, 19 Adam Farrell


Subs: 1 Cormac Henry (for Williams 60), 8 Matthew Scott (for ? Farrell, 42), Eoin Farrell