| | | |
| --- | --- | --- |
| BRAY WANDERERS | 0-0 | CORK CITY |
First Division
Carlisle Grounds
01 Oct 2021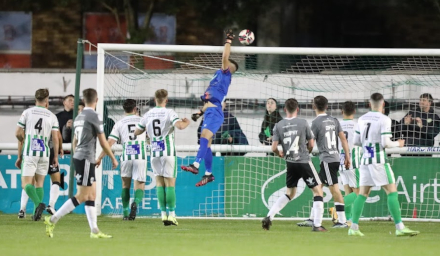 Maher tips one over
Pic Peter Minogue
A lively but not terribly entertaining contest at the Carlisle Grounds ended scoreless, no doubt to the disappointment of both managers.
Chances were at a premium at both ends, but Brian Maher was possibly the busier of the keepers, producing several fine saves, while woodwork and close shaves as well as alert minding kept Dave Harrington's net intact.
Cian Murphy was responsible for the visitors' nearest approach to a score, running through the defence on to a long ball, which only a superb stop kept out of the Bray goal.
A spectacular near-miss by Seán Callan in the last minute of regulation time came off the Cork crossbar, and Gary Shaw had just missed connecting with a Brandon Kavanagh cross at point-blank range a quarter of an hour earlier.
With Shelbourne confirming their long-anticipated divisional victory, the Bray encounter also put an end to another question, as Cork cannot now reach the Playoffs this season.
An early shot at goal from Cian Bargary caused Maher no problem, but it marked the first half as a period during which Cork attacked and attacked but couldn't find the way to the net.
It was marred by a stream of petty fouls and stop-start play that didn't allow either team to develop any sort of rhythm to their movements. Long clearances and headers that failed to find a useful target became the order of the day.
Seven minutes in, a Bray free for a foul on Ryan Graydon was met by the foot of Aaron Barry, but glanced just left of the far post. Minutes later, Shaw got on the end of a Richie O'Farrell crossfield ball, but without power. Josh Honohan nipped in in front of Harrington to punt clear.
Cian Murphy's 13th minute header landed on top of the Bray net, and Harrington anticipated well when Andrew Quinn's ball for Shaw was just a little too far ahead if the Bray striker.
Midway through the half, Bargary was downed in what seemed a clearly illegal manner, but no action was taken, unlike the response when Shaw was barged only seconds later and an immediate free was awarded, together with a booking.
Cork Manager Colin O'Brien's indignation saw him follow Barry Coffey into Michael Connolly's book. Undaunted, Bargary continued his good work in defence, and the Cork players managed to find themselves in the way of Bray passes time and time again.
Just inside the half hour, a looped ball behind the defence had Murphy racing between Barry and Kavanagh to shoot, but Maher got down and put his boot in the way, just enough to send the ball high over the bar and out of play.
Five minutes after that, a long Barry ball raced fractionally too far for Shaw to reach it, and from a counter-attack and subsequent corner, Aaron Bolger had an effort sweep barely past Maher's far post.
Maher had to dive to turn Bargary's 39th minute shot round the near upright, and following the corner and partial clearance, Crowley's header was well right of target, and before the break, a Mark Byrne short free, fed into the area by Graydon, was cleared easily by Bolger.
Minutes after the restart, a Shaw shot from a Steven Kinsella cross was deflected high, giving Harrington the time to claim, and Shaw turned provider shortly after that, his cross giving Graydon an opportunity, but the header lacked power and was easily stopped by the Cork keeper.
Short of the hour, Shaw seemed to have got round the defence, but his shot was blocked by the Cork captain, and Quinn's long shot after the corner was well-covered by Harrington.
Most of the Cork defence went forward for a throw deep in Bray's lefthand corner, and a rebound from Barry fell to Honohan, whose shot flew low past Maher, and past the far post.
The introduction of Conor Clifford and Joe Doyle brought fresh life to some of the Bray attacks, but without altering the scoreline.
With just over a quarter of an hour to play, Kavanagh worried his way past a stubborn Darragh Crowley and lofted a dangerous cross towards Shaw, who was unable to connect, within feet of the net and with Harrington just wide of the goalmouth.
A smashing strike by Crowley following good work by Bargary on the left was headed clear by Kavanagh as Maher leaped acrobatically to block, and minutes later a foul by Barnett on Walker went unnoticed, or at least unpunished.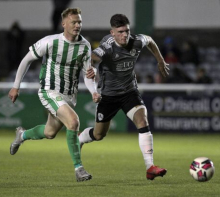 Honohan shadows Shaw
Pic Garry O'Neill, echolive.ie
The introduction of Sam Verdon at a late stage signalled that Gary Cronin was not giving up on the points, the newcomer shooting within a minute of arriving, but not quite accurately enough, flying inches above the bar.
As Fourth Official Mark Moynihan prepared the board to announce the 5 minutes of time added, Clifford took a free wide on the left, reaching Shaw who returned it into the goalmouth where a diving header by Callan bounced away behind off the crossbar with Harrington flapping - but the offside flag was already up.
Coffey twice came close to stealing the victory in the additional time, skinning the bar with a 92nd minute effort and when Bargaryy won a corner a minute later playing it short to former Bray man Dylan McGlade, retrieving after his first effort was headed high by O'Farrell, and causing Maher a problem when his second attempt took a wicked deflection off the head of Doyle.
Mícheál Ó hUanacháin
Bray Wanderers: 1 Brian Maher; 8 Mark Byrne

, 4 Andrew Quinn, 5 Aaron Barry (c), 3 Dylan Barnett; 14 Richie O'Farrell, 18 Sean Callan; 7 Ryan Graydon, 22 Steven Kinsella, 11 Brandon Kavanagh; 10 Gary Shaw
Subs: 6 Conor Clifford (for Byrne 66), 9 Joe Doyle (for Kinsella 66), 16 Darren Craven, 17 Luka Lovic, 19 Darragh Lynch, 20 Ryan Dowden, 25 Kian Clarke (gk), 27 Callum Thompson, 28 Sam Verdon (for Kavanagh 83)
Cork City: 13 David Harrington; 25 Gordon Walker, 18 Joshua Honohan, 8 Cian Coleman (c)

, 3 Ronan Hurley

; 33 Aaron Bolger

; 17 Darragh Crowley, 9 Beineón O'Brien-Whitmarsh, 14 Barry Coffey

, 11 Cian Bargary; 24 Cian Murphy
Subs: 1 Mark McNulty (gk), 6 Gearóid Morrissey, 7 Dylan McGlade (for Crowley 83), 15 Dale Holland, 16 Alec Byrne, 19 Luke Desmond, 20 Paul Hunt (gk), 23 Seán Kennedy (for O'Brien-Whitmarsh 73), 28 Jonas Häkkinen
Referee: Michael Connolly