| | | |
| --- | --- | --- |
| WEXFORD | 0-1 | BRAY WANDERERS |
| | | Joe Doyle 43 |
First Division
Ferrycarrig
21 May 2021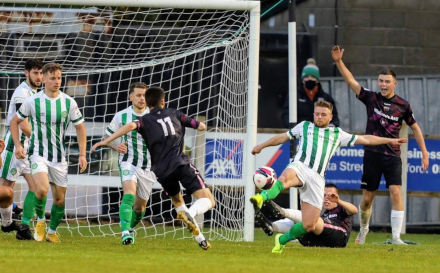 Clifford about to clear
Pic Peter Minogue
A blistering opening by the visitors, who kept up their pace for a full half hour, yielded little but possession, and their slim lead came just short of the break.
Joe Doyle justified his front row position with a well taken goal from a pass by Brandon Kavanagh after Luke Turner was unable to hold on to possession on a very slippy pitch.
Bray were a little less dominant in the second period, and held off sustained home side pressure in the final quarter to take the three points and their third victory on the trot.
Pace isn't everything, and Richie O'Farrell found himself offside at the end of an opening attack that had looked promising, and five minutes in an early Wexford counter-attack ended with a Bray free, at the end of which O'Farrell had a half-chance blocked only for Ryan Graydon to pick up the slack, but shoot straight at Jimmy Connolly in the home goal.
Kyle Robinson, who would cause the visitors not a few anxious moments, had an effort taken coolly by Brian Maher eight minutes in, and within a minute a Dylan Barnett free following a foul on Graydon was taken short and square to Conor Clifford, who took a chance but shot high and wide.
Minutes later, after good midfield work, an O'Farrell speculative shot was deflected out for a corner, but nothing came of it, and when Graydon was racing through on goal just afterwards, Paul Cleary stooped his flight with a perfectly timed sliding challenge.
Midway through the half Graydon landed a cross from the left neatly for the head of Joe Doyle, but it ended up in Corcoran's arms, and soon after that the Bray players called for handball when it had bounced up from a defender's boot to his forearm.
Conditions weren't ideal, continuous rain in previous days having left the ground slippy everywhere, causing Mark Byrne to lose his footing when trying to cover a Jack Doherty run, which could have proved costly, but he redeemed himself when stopping Paul Fox cold.
With the first half running a little out of steam, Conor Crowley crowned a good run with a tight pass for Fox, whose cross was almost inch-perfect for Robinson, but his attempted header was only a glancing one and Maher had little trouble steering it away from trouble.
Within seconds, good midfield passing again found Doyle, who momentarily lost control under close attention but regained it only to fire straight at Corcoran. The Bray striker was unlucky again immediately, missing O'Farrell's cross which then fell enticingly for Stephen Kinsella, but the midfielder couldn't keep hsi effort down.
Better followed - a sort of third time lucky within almost as many minutes, when he had just enough time to settle the ball before lifting it past the Wexford keeper into the top of the net.
The early part of the second period was more balanced, and a little less frantic. A defensive error cost the home side a corner six minutes in, but Corcoran claimed Brandon Kavanagh's flag-kick without difficulty.
Gary Cronin introduced Gary Shaw just before the hour mark, and the striker was prominent in many of the Seagulls' attacks thereafter, but without receiving many scoring chances.
In fact, the first real opportunity that fell to the Wanderers after Shaw's arrival fell to Kavanagh, the bounce of whose free would have been awkward for the keeper had it not passed just the wrong side of the far post.
Twice in the minutes after the hour, the combination of Crowley and Fox came close to success, first when the latter's cross for Robinson was a little loose and the Wexford striker couldn't keep it in play, and then when O'Farrell had to head Fox's shot away at the cost of a corner. Maher only barely kept the ball in play after Crowley's flag effort.
With little more than twenty minutes left, Wexford substitute and assustant manager Lorcan Fitzgerald insisted on taking a 27m free instead of Crowley, who went forward to receive and head just over the bar.
A heavy clash between Wexford sub Success Edogun and Mark Byrne led to another caution, the home team's fourth, but play in the minutes following was inconclusive, and as the end of the 90 approached, a free out for another Edogun foul saved Bray from the final ball of a scrappy home attack.
In time added, Corcoran came forward to take a free on the sideline near halfway, but his short ball for Fitzgerald was eventually cleared, and before the final whistle the same player's long high ball was punched away by Maher.
Mícheál Ó hUanacháin
Bray Wanderers: 1 Brian Maher; 8 Mark Byrne, 4 Andrew Quinn, 5 Aaron Barry (c), 3 Dylan Barnett; 7 Ryan Graydon, 6 Conor Clifford

, 22 Stephen Kinsella, 11 Brandon Kavanagh; 9 Joe Doyle

, 14 Richie O'Farrell


Subs: 10 Gary Shaw (for Kinsella 57), 12 Dean O'Shea, 16 Darren Craven (for Graydon 72), 17 Luka Lovic (for Kavanagh 72), 23 Glen Hollywood, 24 Cian Maher, 25 Kian Clarke (gk), 30 Jack Ross (gk)
Wexford: 1 James Corcoran; 4 Paul Cleary, 5 James Carroll

, 6 Jack Connolly, 7 Conor Crowley

, 8 Karl Manahan (c), 9 Karl Fitzsimons, 10 Jack Doherty, 11 Paul Fox

, 17 Kyle Robinson, 23 Luke Turner
Subs: 3 Alex O'Hanlon, 12 Jack Larkin, 13 Success Edogun (for Manahan 74)

, 15 Kevin McEvoy, 16 Charlie Smith, 18 Sean Martin (gk), 19 Evan Farrell (for Turner 74), 21 Harry Groome (for Connolly 84 inj)

, 29 Lorcan Fitzgerald (for Fitzsimons 65)
Referee: Jason Mannix