| | | |
| --- | --- | --- |
| BRAY WANDERERS | 3-0 | CABINTEELY |
| Dylan Barnett 12 | | |
| Richie O'Farrell 17 | | |
| Gary Shaw 74 | | |
First Division
Carlisle Grounds
14 May 2021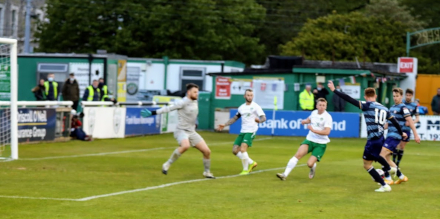 Shaw provides the icing
Pic Peter Minogue
Bray wearing their second strip and allowing their visitors to flourish the green and white was the full extent of their courtesy, as they inflicted a second 3-0 defeat of the day on Cabinteely (their forfeit of the match against Galway had been confirmed in the afternoon).
The result was well-earned, though Cabo could consider themselves unlucky that some of their second half play didn't yield a better scoreline.
Dylan Barnett provided the Seagulls' opener following a Conor Clifford free that came back hard off the near upright onto Barnett's chest, the defender having only to aim and fire.
Midfielder Richie O'Farrell was up next, five minutes later, diving low to head Ryan Graydon's cross into the near corner of Adam Hayden's net.
Gary Shaw made his appearance off the bench at half time to great anticipation, and almost a half hour later capitalised on a little confusion in the Cabinteely defence, off two of whom the ball bounced before falling nicely for the striker to fire under Hayden.
A lively start by both sides saw Eoin McPhillips sidefooting a good cross by Jordan Payne across goal after a strong burst into the area on seven minutes, and a dangerous looking Graydon cross cleared away by Cabo skipper (and former Seagull) Dan Blackbyrne a minute later.
Then Brandon Kavanagh found Graydon on the far side, but Luka Lovic got tangled with Hayden in his effort to reach the nodded down ball.
Within moments, another former Bray man, Kieran Marty Waters, ran clear on the left but couldn't find Conor Knight on the far post and Aaron Barry headed clear.
Brian Maher had been largely a spectator so far, but he came forward to claim a Niall Barnes cross when the latter had made a good run.
Barnett's goal, followed so quickly by O'Farrell's, seemed to take a lot of the fire out of the visitors, and though Zak O'Neill's free midway through the half came reasonably close to the target, the remainder of the first period was largely under home control.
Barry had a header a little too high following another Clifford free just inside the half hour, and Barnett fired wide after good work on the left just after.
Nearing the break, Joe Doyle - who was very active throughout - kept possession under pressure, but his cross came hard at O'Farrell, who reacted a little too slowly to direct his header.
With just two minutes left to half time, Lovic aimed a lovely crossfield ball at Graydon, but it fell half a pace too far forward, and after Maher had leapt into a crowded area to claim a Cabinteely free, Graydon took his clearance and tried a speculative shot from distance that failed to trouble Hayden.
Cabinteely made three half time changes, and reformed their shape, with the result that Bray's attack was much more subdued in the second period, and there was hardly any action to concern either keeper until Dean Casey shot a little high from just outside the area just over ten minutes in.
From the long punt by Maher, Kavanagh fed Graydon, but his cross was cleared off the line by Mitchell Byrne, and thus began two series of corners exchanged by the teams, with no significant advantage gained on either side.
Just after the hour, Casey fired in a powerful shot that Maher had to stretch to push away, and minutes later, following the capture of a loose pass by O'Farrell, O'Neill rattled Maher's near post, even though the Bray keeper got a touch on the shot.
Although Shaw's goal came from a free, it was anything but a choreographed set-piece, with both attack and defence deceived by the sudden changes of direction by the ball as it ricocheted in the area until the striker got it at his toe. His shot, strangely, appeared a little scuffed, and bounced under the Cabinteely goalie before bouncing to the top of the net, where a cleaner shot might have ended up in Hayden's hands.
That pretty much ended the game as a contest, but though the Seagulls continued to dominate, they were never entirely without opposition, and a dangerous Cabinteely attack in time added had to be scrambled clear by the Wanderers defence.
Curiously, two wins in a row for Bray have combined with other results, including Galway's walk-over, to see the Wicklow side drop a place in the table, rather than rise.
Mícheál Ó hUanacháin
Bray Wanderers: 1 Brian Maher; 8 Mark Byrne, 4 Andrew Quinn, 5 Aaron Barry (c), 3 Dylan Barnett

; 6 Conor Clifford; 17 Luka Lovic

, 11 Brandon Kavanagh, 14 Richie O'Farrell

, 7 Ryan Graydon; 9 Joe Doyle
Subs: 10 Gary Shaw (for Lovic H/T)

, 12 Dean O'Shea, 22 Stephen Kinsella (for Doyle 84), 23 Glen Hollywood (for Kavanagh 89), 24 Cian Maher, 25 Kian Clarke (gk), 26 Toby Owens, 30 Jack Ross (gk)
Cabinteely: 1 Adam Hayden; 18 Conor Knight, 33 Mitchell Byrne, 2 Dan Blackbyrne (c)

, 12 Niall Barnes; 22 Dean Casey, 19 Luke McWilliams, 26 Jordan Payne, 20 Eoin McPhillips; 8 Zak O'Neill, 10 Kieran Marty Waters
Subs: 6 Alex Aspil (for McPhillips H/T), 9 Luke Clucas, 14 Ben Hanrahan (for Barnes H/T), 23 Joe Hyland (for Casey 86), 24 Lloyd Buckley, 28 Deane Watters (for Knight H/T)

, 29 Jem Campion (for Payne 71), 31 Cian Kelly, 35 Ben Clark (gk)
Referee: Kevin O'Sullivan