| | | |
| --- | --- | --- |
| GALWAY UNITED | 1-2 | BRAY WANDERERS |
| Ruairí Keating 34 | | Joe Doyle 6 |
| | | Gary Shaw 91+ |
First Division
Deasy Park
07 May 2021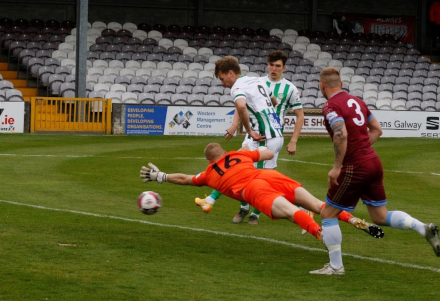 Doyle sidefoots under Kearns
Pic Peter Minogue
It wasn't just the first victory, or the three valuable points - there was an element of payback, too, for the late Galway victories last season that ensured Bray would face another First Division campaign.
Striker Joe Doyle's early goal was psychologically effective.
The visitors had spent most of the preceding few minutes in the Galway half when Brandon Kavanagh capitalised on a little slack defending to slip a ball through the middle for Doyle, whose first effort was blocked by Conor Kearns, but who followed up quickly to sidefoot the loose ball behind the sprawled Galway keeper.
Spurred into action, the home side went on the attack, but Conor McCormack's seventh minute cross found only a defender, and though the Tribesmen took every metre they could get for their throw-ins, stray clearances continued to favour the Seagulls.
Just inside the quarter hour, Dean O'Shea managed to keep possession as Chris Horgan was trying to see Aaron Barry's long ball out over the end line, but Kearns was well-placed to claim the Bray man's cross.
Bray should have had a second sixteen minutes in when Doyle missed another O'Shea cross but the onrushing Luka Lovic saw Kearns get down awkwardly to claim his toe-poke from close range after it first hit the post.
Some of his colleagues felt they had seen a defensive infringement, but a free out was the decision. Richie O'Farrell was warned for a clumsy challenge, but it was Dylan Barnett who earned the first of eight cards in the game (and one for Galway official Johnny Glynn) when he pulled McCormack down in a chase for the ball.
Half an hour in, with Maurice Nugent receiving attention,the players trooped to the dugouts for an unofficial water break, and when play resumed it wasn't long before Kavanagh sent a longrange shot curling nicely down towards the net, and Kearns had to stretch high to knock it over.
The home side had been penned in their own territory for most of the opening half hour, and their next attack looked like petering out too, until Carlton Ubaezuonu's nicely weighted cross found Ruairí Keating in a crowded goalmouth, and the Galway striker bundled it home.
Three corners in a row produced nothing of value for the Seagulls, and some of the pep seemed to have ebbed out of their play.
Shane Duggan missed from close range on 37 minutes, when receiving another Ubaezuonu cross. and the Tribesmen hit the Bray woodwork twice in the dying moments of the first period, through Keating the first time, and seconds later with a classy Ubaezuonu overhead effort.
The Seagulls seeemed to have recovered their composure after the interval, but despite play moving from end to end it was the home side that had a couple of half chances in the early stages of the second period, Mikey Place with a testing cross on 53 minutes that looked bound for the head of Keating, but missed and flew harmlessly wide, and moments later a speculative shot by Duggan that brought Brian Maher into action to tip it away.
Wanderers, by contrast, were finding it difficult to get within shooting range of the Galway goal.
Barely twenty minutes were left when Galway earned their first corner of the contest following a Killian Brouder free deep in his own half, Duggan's flag effort forcing Maher into a palmed flick round the woodwork.
With six minutes to play, Ubaezuonu was left free in a dangerous position on the left for a long Duggan pass and managed to get a shot away, but it was weak and failed to trouble Maher.
Barry went into Referee Mark Moynihan's book for his 87th minute challenge on Pádraic Cunningham, but substitute Mikie Rowe couldn't keep the ensuing free, in a challenging spot just 20m from the Bray goal, down enough to trouble the keeper.
But just at it looked like the game would end level yet again, an injury time corner taken by Kavanagh found Gary Shaw, on from the bench, ready at the back post to power the ball into the net.
Galway had a last ditch opportunity to level things: with no time left on the clock, Maher punched away a McCormack free, and then claimed Nugent's header from Duggan's flag ball.
Mícheál Ó hUanacháin
Bray Wanderers: 1 Brian Maher; 8 Mark Byrne, 4 Andrew Quinn

, 5 Aaron Barry (c)

, 3 Dylan Barnett

; 12 Dean O'Shea, 17 Luka Lovic, 6 Conor Clifford, 11 Brandon Kavanagh; 14 Richie O'Farrell

, 9 Joe Doyle


Subs: 10 Gary Shaw (for O'Shea 57)

, 23 Glen Hollywood, 24 Cian Maher, 25 Kian Clarke (gk), 27 Ross O'Brien, 30 Jack Ross (gk)
Galway United: 16 Conor Kearns; 21 Christopher Horgan

, 5 Killian Brouder, 3 Stephen Walsh, 6 Maurice Nugent; 22 Conor McCormack (c), 8 Shane Duggan, 10 David Hurley, 15 Carlton Ubaezuonu

; 20 Mikey Place, 7 Ruairí Keating



Subs: 1 Kevin Horgan (gk), 4 Gary Boylan For Horgan 85), 9 Pádraic Cunningham (for Place 68), 12 Stephen Christopher, 14 Mikie Rowe (for Hurley 68)

, 17 Caoilfhionn O'Dea, 18 Wilson Waweru (for Ubaezuonu 85), 24 Colin Kelly
Referee: Mark Moynihan