| | | |
| --- | --- | --- |
| BRAY WANDERERS | 0-0 | TREATY UNITED |
| | | Sean McSweeney s/o 65 |
First Division
Carlisle Grounds
28 Mar 2021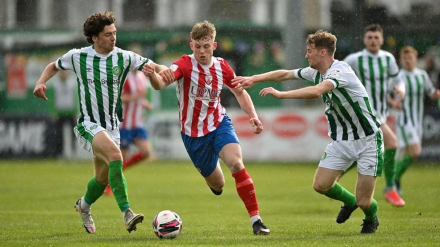 O'Farrell and Quinn gang up on O'Dwyer
A strong and blustery wind and intermittent patches of driving rain increasing as the game progressed were not conducive to good football, but the players contributed their share of errors to what was a very disappointing opening match of the season for the Seagulls.
Treaty keeper Tadhg Ryan was in action early, punching a Bray free away, and a series of corners won by the home side failed to produce a breakthrough, though Ryan did well to save a strong effort from Richie O'Farrell seven minutes in.
On the quarter hour, a trademark Mark Ludden long throw from the left threatened, and when Brian Maher didn't punch it, it fell to Matt Keane who blazed it way over his crossbar.
Some of the stoppages in play were due to the weather, but Referee Olver Moran wasn't inclined to let any foul play pass without sanction, Luka Lovic gping into his book midway through the half for a climing intervention over the top of Mark Walsh.
The wind tended to carry anything intended as a thrugh ball, and probably in an attempt to compensate, Darren Craven was caught offisde twice in the space of a couple of minutes, shooting high from Conor Clifford's pass before the whistle blew on the second occasion.
Good move by the home side as Clifford and Craven linked up however Craen's run was just off as he was offside before putting the ball over the bar in the process
There was little to choose between the sides in terms of possession during the first period, though if anything Bray seemed to shade the territorial balance.
Following the break, matters looked like becoming a little testy, and Craven and shortly after that United's Seán McSweeney went into the book for poor challenges, the latter's reaction probably confirming Moran's initial decision.
But Wanderers' performance in the early stages of the second half was an improvement on the first, and it began to look like a home goal might be on the cards. Sean Guerins had to defend a testing cross from Dylan Barnett on 52 minutes.
It wasn't one-way, however, and when Treaty won the ball deep just before the hour McSweeney had an opportunity for an ambitious shot from distance which flew over Maher's bar. Moments later Ryan Graydon fired a hurried effort just left of target when he had a little more space and time than he thought.
Shortly afterwards, Treaty substitute Edmond O'Dwyer made a good run but was pulled up short by a tackle from Andrew Quinn.
McSweeney was in the wars again, on 65 minutes receiving a second caution, this time for a clumsy tackle on O'Farrell in midfield, but his reaction again certainly didn't help.
With the visitors down to ten men, everything pointed to a Bray win, but try as they might the Seagulls could not find the back of the net. A long ball by Quinn, intended for Graydon, was cleanly taken by Ryan on the edge of his area, and in following play a decent-looking Bray attack was thwarted with some difficulty by the Treaty defence.
With only a quarter of an hour left, a nice movement by the home side ended up with Brandon Kavanagh, but the final ball needed eluded him as his effort from the right went out for a goal-kick.
On 77 minutes, Charlie Fleming missed Mark Byrne's cross from the right which duly found its way to the head of Dylan Barnett, but he could only steer it direct to Ryan.
Only six minutes left, and Brandon Kavanagh had a free kick in a dangerous position, but it travelled just inches wide, while two minutes later Quinn headed away a well-flighted corner from Treaty sub Shane Lowth.
As the game entered time added, the visitors had a couple of chances to bring off an unlikely ten-man victory, with a Marc Ludden free deep in Bray's lefthand corner going a-begging in the square.
And in the final seconds, following a Clifford flag-kick, Wanderers skipper Aaron Barry brought a clean Ryan stop for his last-ditch effort.
Neither side gave an impressive performance, and Bray's failure in the final quarter of the match to capitalise on their numerical strength against a weakened United was disappointing.
Mícheál Ó hUanacháin
Bray Wanderers: 1 Brian Maher; 8 Mark Byrne, 4 Andrew Quinn, 5 Aaron Barry (c), 3 Dylan Barnett; 6 Conor Clifford; 7 Ryan Graydon, 16 Darren Craven

, 17 Luka Lovic

, 14 Richie O'Farrell; 11 Brandon Kavanagh
Subs: 9 Joe Doyle (for Craven 83), 10 Gary Shaw, 12 D O'Shea, 18 Seán Callan, 20 C Gallagher, 22 Steven Kinsella (for Lovic 68), 23 Glen Hollywood, 24 Cian Maher, 25 Kian Clarke (gk)
Treaty United: 1 Tadhg Ryan; 3 Marc Ludden, 6 Anthony O'Donnell, 44 Jack Lynch (c), 2 Charlie Fleming; 14 Sean Guerins, 15 Edward McCarthy, 25 Mark Walsh, 12 Matt Keane; 10 Sean McSweeney

, 9 Kieran Hanlon
Subs: 11 Alan Murphy (for McCarthy 69), 13 Aaron Fitzgerald, 16 William Armshaw, 18 Edmond O'Dwyer (for Hanlon 57), 21 Shane Cusack (gk), 22 Shane Lowth (for Keane 69), 23 Callum McNamara, 26 Matt McKevitt
Referee: Oliver Moran