| | | |
| --- | --- | --- |
| BRAY WANDERERS | 0-2 | CORK CITY |
| | | Maguire 13 |
| | | Keohane 86 |
Premier
Carlisle Grounds
16 Jul 2017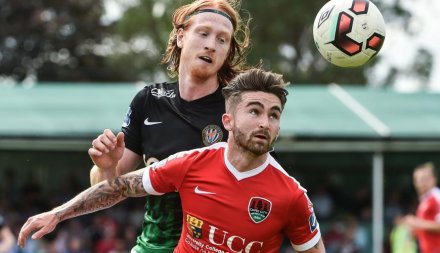 Douglas keeps an eye on Maguire
pic courtesy sseairtricityleague.ie
Disappointing, but not exactly surprising, in spite of Bray Head Coach Harry Kenny's plaudits for his players, which weren't exactly misplaced either.
Seanie Maguire rounded off his domestic Irish season tally to twenty with a nicely taken goal just before the half hour.
Bray's Gary McCabe had the ball in the net ten minutes after the break, but Referee Robert Harvey ruled it out following a push, it was said, on Cork keeper Mark McNulty.
And despite their best efforts, Bray's underlying defensive weakness told within minutes of the end when Jimmy Keohane took advantage of a second blunder to fire home the clincher.
Cork now travel to Cyprus with at least the consolation that their title is all but safe, in practical terms if not in mathematical, While Bray's elevated third position status rests on a wafer thin goal difference of +1.
Peter Cherrie was a busy man, called into action within the opening minute to punch away a threatening cross from Kieran Sadlier, after the latter bamboozled his way up the left and into the corner.
But within a minute, Bray felt they had earned a corner when Jason Marks's cross was headed behind, but a goalkick was awarded, the first of several debatable decisions during the afternoon.
Wanderers did have a brace of flag setpieces on the ten minute marks, but hving failed to make anything of them they then suffered a blow when Maguire started and finished a move up the left, feeding Karl Sheppard who then found Steven Beattie, and it was Beattie's cross that allowed Maguire to finish in style.
The home side looked a little rattled for a while then, Maguire seeming to win a corner in an endline duel with Cherrie, though assistant referee Wayne McDonnell, a good bit behind the action, signalled a goalkick.
There was little point in the Seagulls playing pretty passes if they couldn't consistently find their colleagues while Sheppard was peppering the Bray goal and wasn't too far off target from 22m out midway through the half.
Harvey seemed slow to stop the action to attend to injured players, much to the ire of the travelling support.
Just after the half hour, McNulty had to be alert to claim a Keith Buckley cross, and minutes later his Bray counterpart just got a fingertip to Maguire's ball, barely enough to disrupt the flow of the Preston-bound striker's move, and then claim.
Ryan Brennan had a speculative shot that flew just past the far post, following which Sadlier managed an end-line cross which Maguire popped just too high, and a McCabe free wasd deflected inot the sky, giving the Cork defence time to respond.
The whistle ended the half with Bray on the attack, and overall, while second best, by no means deterred.
The second period opened with attacks from noth sides yielding nothing, the home side going closest when Brennan forced a move up the right and fed Aaron Greene, who in turn held possession until he was forced into a tight angle and could only find the side-netting.
Who knows what the effect might have been if McCabe's 55th minute free from 20m on the left, round the wall and into the net, hadn't been ruled out for what was believed to have been a push on the Cork keeper, though few claimed to have seen it.
A short while later, Beattie needed attention when a Greene free hit him directly in the face, and shortly after that again Maguire received a caution apparently for what Harvey took to be simulation.
Just after the hour mark, Maguire hit Cherrie's post and Cork substitute Achille Campion saw his follow-up deflected wide, though the corner was squandered.
A Sadlier crpss passed everyone in the area, and when Greene counter-attacked and fired a long ball through for Marks, the latter couldn't keep it in play.
With less than twenty minutes to go, McCabe shot high when Greene put him on, and from a brac of Cork corners the second went out off a Bray leg but a goal-kick was the result.
Once again play continued while a player, Conor McCormack this time, lay unattended on the ground, and when play was stopped by a foul, cosiferous Cork protests saw McNulty's name go in the referee's book as well.
In ensuing play, Greene was next to see yellow, again for simulation, and yet again from a counter-attack the Cork force looked dangerous.
Douglas unaccountably stepped away from the ball, and when it reache Kenna, he miskicked, Keohane gratefully accepting the free ball and firing past the Bray keeper.
In the final minute of normal time, Greene shot just over from close range, and the action effectively ended after a pair of Bray corners.
Mícheál Ó hUanacháin
Bray Wanderers: 1 Peter Cherrie; 6 Keith Buckley, 2 Hugh Douglas, 4 Conor Kenna (c), 19 Kevin Lynch; 8 Mark Salmon, 3 John Sullivan; 7 Ryan Brennan, 11 Gary McCabe, 23 Jason Marks; 9 Aaron Greene


Subs: 5 Derek Foran, 10 Karl Moore, 14 Jamie Aherne, 17 Gerald Pender, 21 Tim Clancy (for Foran 57), 22 Darragh Noone (for Sullivan 71), 93 Lee Steacy (gk)
Cork City: 1 Mark McNulty

; 10 Steven Beattie, 3 Alan Bennett (c), 5 Ryan Delaney

, 20 Shane Griffin; 26 Garry Buckley

, 8 Conor McCormack; 19 Karl Sheppard, 7 Jimmy Keohane

, 15 Kieran Sadlier; 24 Sean Maguire



Subs: 6 Gregory Bolger, 9 Achille Campion (for Buckley 60), 11 Stephen Dooley, 16 Gearóid Morrissey, 17 Connor Ellis (for Sheppard 88), 23 Sean O'Mahony (for Maguire 92), 25 Alan Smith (gk)
Referee: Robert Harvey