| | | |
| --- | --- | --- |
| BRAY WANDERERS | 2-2 | SLIGO ROVERS |
| Greene 4 | | Leahy 10, 63 |
| Connolly 13 | | |
Premier
Carlisle Grounds
26 May 2017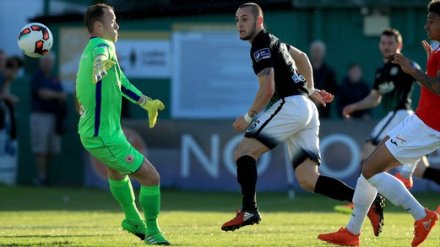 Connolly heads past Schlingermann
pic courtesy rte.ie
In similar circumstances in other seasons, a level scoreline entering the closing half hour could have led to an away win, but not tonight.
Three goals inside the opening quarter hour might have heralded a goal-fest, or a nailbiting hour and a half, but the game then settled down and was looking like a safe home victory until Mick Leahy popped up and equalised just after the hour.
Before tonight he had scored just a single goal since joining Sligo.
Aaron Greene's early early show had been neutralised by the Sligo centre-half, but Dylan Connolly put the Seagulls ahead again, all in a rapid-fire start to the encounter.
The first Bray goal came at the end of what was practically the first attacking movement of the game, Ger Pender's through ball giving the Bray man the opportunity to fire a low shot past Mícheál Schlingermann.
And the Sligo keeper was kept alert by Bray, with a Kevin Lynch free to collect a few minutes later.
But the next significant action was at the other end of the pitch, where a Sligo corner, well-delivered by Liam Martin, found Leahy at the far post ready to head home.
Within a minute Ryan Brennan was attacking in the visitors' danger area, but his header was just wide.
Two minutes after that, however, Brennan was accurate with a cross from the right that found Connolly unmarked at the near post ready to turn the ball into the net.
Once more the Bit o'Red looked like levelling matters quickly, with Raff Cretaro rising to their next corner, but this time it was he who was off-target.
Brennan had a speculative shot well over from distance before Jonah Ayunga launched a cross that Peter Cherrie had to deal with, and the same Sligo man was ready for a Kieran Sadlier cross just after the half hour until Bray skipper Conor Kenna intervened.
Schlingermann had to sprint to pounce on the ball at the end of a neat one-two between Pender and Greene, and as the break drew near, Sadlier had an unsuccessful go at Cherrie's goal from a pass by Tobi Adebayo-Rowling.
A brisk opening to the second period saw Ayunga get behind the Bray defence, but Kenna retrieved the situation well, and the play then sagged into a series of unremarkable moves until a fine cross-field pass by Sadlier just before the hour released Ayunga, who couldn't get his shot on target.
Their next move proved more valuable. Sadlier and substitute Mikey Place combined up the left for Sadlier to cross, reaching Cretaro who cut back in for Leahy to head to the net.
It would be an over-simplification to say that Bray held out for a share of the points, for with almost half an hour remaining both teams were trying hard to the very end.
A combination by Cretaro and Sadlier looked like producing a score until the Bray defence got in its way, and Brennan's header from a Kevin Lynch corner was saved by the Sligo keeper.
Sadlier fed Craig Roddan, but neither he nor Sadlier himself could find the net.
With six minutes left, Greene put a free straight into Schlingermann's arms, and a minute later Cherrie used his hands to turn away a fierce drive from distance by Ayunga.
The Bray keeper collected a decent effort from Regan Donelon, and the home side had a couple of half-chances in the last minutes of regulation time and in time added.
Compiled by Mícheál Ó hUanacháin
Bray Wanderers: 1 Peter Cherrie; 6 Keith Buckley, 21 Tim Clancy, 4 Conor Kenna (c), 19 Kevin Lynch

; 8 Mark Salmon, 3 John Sullivan

; 7 Ryan Brennan, 9 Aaron Greene

, 16 Dylan Connolly


; 17 Gerald Pender
Subs: 2 Hugh Douglas, 5 Derek Foran, 10 Karl Moore, 12 Conor Earley, 14 Jamie Aherne, 23 Jason Marks (for Lynch 78), 93 Lee Steacy (gk)
Sligo Rovers: 1 Mícheál Schlingermann; 2 Tobi Adebayo-Rowling, 5 Kyle Callan-McFadden

, 4 Michael Leahy


, 3 Regan Donelon; 14 Gary Boylan, 8 Craig Roddan; 19 Jonah Ayunga, 27 Liam Martin, 11 Kieran Sadlier; 10 Raffaele Cretaro
Subs: 6 Seamus Sharkey, 12 Chris Kenny, 16 Shaun Patton (gk), 24 Michael Place (for Martin 39)

, 28 Mark Hannon, 32 Martin Walsh
Referee: Paul McLaughlin