Kelly steps into the breach
2018-04-10
Bray Wanderers have named Graham Kelly as their new caretaker manager, following the departure of Dave Mackey.
Mackey resigned at the weekend, with the Seagulls rooted to the bottom of the Premier Division table, with just one point from nine League games.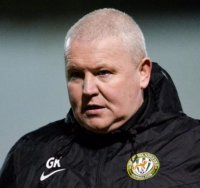 Graham Kelly
In a short statement, the club confirmed that Kelly had been appointed as a caretaker manager "for the foreseeable future".
"We would like to thank Graham for taking on this difficult task at short notice," the statement ended.
Graham Kelly worked with St Josephs Boys for over 21 years until 2015. In July 2013 He received the Noel O'Reilly FAI Coach of the Year award, on successfully completing his UEFA 'A' Licence, Coaching the winning Kennedy Cup team and also seven players from his team at St Joseph's Boys receiving International Caps.
Graham is also a qualified Video Analyst and has worked in this role with Bray Wanderers first team and the Republic of Ireland U16 Squad in the past.
Graham was manager of the St Josephs Boys/Bray Wanderers Under-17s in 2016. He took over as Manager of the Bray Wanderers Under-19s midway through the 2016 season.