Mid-February start for 2018 season
2017-11-30
Next season will open with the President's Cup contested by Cork City and Dundalk once more, on 11 Feb in Oriel Park.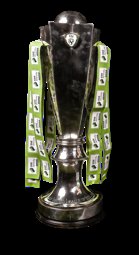 The League Premier Division starts the following weekend, on 16 Feb, with the First Division a week later.
Top-flight teams will meet each other four times in the League, and the First Division clubs will be delighted to hear that there will be no midweek League fixtures in their list.
Promotion and relegation will follow the previous formula, one up and one down, and a play-off among the 2nd, 3rd and 4th First Division teams, the winner to face the 9th placed Premier team.
The FAI Cup Final will be on 04 November. It's not quite clear if promotion/relegation will be concluded by then.
The full fixture lists are due to be released on 19 Dec next.