Statement from Bray Wanderers Supporters Club
2015-07-07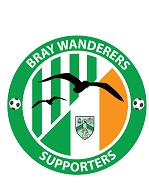 Bray Wanderers Supporters Club would like to express our growing concerns about the way in which our club has been run over the past few months.
Whilst recognising the economic uncertainty of the club and ongoing efforts to keep the club afloat, we feel as supporters of Bray Wanderers Football Club that the current management structure has failed to stabilise the clubs reputational decline.
Since its arrival in the League of Ireland in 1985 Bray Wanderers has had a proud reputation of being respected, not just locally, but at a national level also.
However over the past number of months, under the stewardship of the current management, the club's name has been sullied and we as a supporters club feel it is time for change.
The stated objective of the new regime was to "launch a community based club". This we feel has been hampered by the continuous drip feed of bad press.
The alienation of longstanding supporters has led to an aura of mistrust and we, as a supporters club, feel it is our role to express our dissatisfaction with the direction the club is currently heading.
A community based club needs the backing of the community as a whole and the actions and inactions of the current regime has alienated large sections of the soccer following community.
Bray Wanderers Supporters Club have always represented the supporters of Bray and Wicklow since 1985 and will continue to do so.
We would like to acknowledge the work of Trevor Croly and his backroom staff prior to their sudden and unexpected departure and also like to compliment the players on their commitment to Bray Wanderers Football Club during this very turbulent time.
We note that there is a planned peaceful protest outside the Carlisle Grounds by supporters prior to kick-off this coming Saturday 11th July 2015 which has been born out of frustration and anger at the current plight of the club.
Bray Wanderers Supporters Club encourage all supporters of the Club who care about League of Ireland Premier Division football in their town to attend this peaceful protest and show their support for change within our proud club, which has brought great honour to our town and county over the past 30 years, including 2 FAI Cup wins and has represented our town in European competition with distinction.
We appeal to the current management and shareholders of Bray Wanderers to take notice of this protest as a sign of the growing discontentment amongst the loyal and longstanding fans of Bray Wanderers Football Club.
Bray Wanderers Supporters Club is committed to supporting Bray Wanderers Football Club and all its followers.
Together we are stronger​.
Terry O Neill