| | | |
| --- | --- | --- |
| COBH RAMBLERS | 1-2 | BRAY WANDERERS |
| Jason Abbott 67 pen | | Ryan Graydon 50 |
| | | Richie O'Farrell 70 |
| | | Daniel Jones s/o 65 |
First Division
St Colmans Park
25 Sep 2021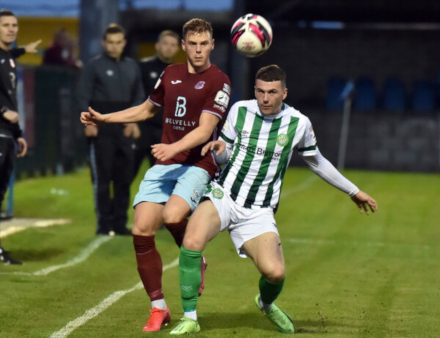 Turner and Graydon head to head
Pic Eddie O'Hare, echolive.ie
Bray take the three points all the way back from the south, but not without drama and a considerable effort in the late stages.
The first half was relatively featureless, both starting elevens looking a little under-strength despite the return of Gary Shaw, making his first start since June (which itself was a rare start for him).
But the second period was anything but. Starting with Ryan Graydon putting away a long cross from Mark Byrne, the tempo of play was raised, and with the introduction of Regis Madika for a long-awaited debut for the home side, things got quite lively.
What appeared an almost routine reaction save by Brian Maher was followed by the award of a penalty to the Rams, which Jason Abbott took and scored.
But in between, Daniel Jones had got his marching orders, and the dismissal seemed to fire up the Seagulls, who failed to give any impression of a team missing a player during the time remaining.
In fact, the glee of the Cobh supporters at the equaliser had barely died down when Richie O'Farrell netted to put the numerical underdogs ahead again.
And using every trick in the book, with particular reference to keeping the ball in the home corners as much as possible, Bray managed to hold out for a vital win.
Full report to follow
Bray Wanderers: 1 Brian Maher; 4 Andrew Quinn

, 15 Daniel Jones

, 5 Aaron Barry (c), 3 Dylan Barnett; 7 Ryan Graydon

, 8 Mark Byrne, 11 Brandon Kavanagh, 14 Richie O'Farrell, 27 Callum Thompson; 10 Gary Shaw
Subs: 9 Joe Doyle (for Thompson 77), 17 Luka Lovic (for Shaw 80), 18 Seán Callan (for Kavanagh 71), 22 Stephen Kinsella, 25 Kian Clarke (gk), 28 Sam Verdon
Cobh Ramblers: 22 Corey Chambers; 26 Fionn Duggan, 5 Ben O'Riordan (c), 3 Darryl Walsh

, 27 Alex Hill; 7 Ian Turner

, 14 Stephen O'Leary, 18 Nathan O'Connell, 23 Ciaran Griffin, 39 Jason Abbott; 21 Luke Kennedy
Subs: 4 Lee Devitt Molloy (for S O'Leary 28 inj), 9 Killian Cooper, 11 Conor Drinan (for Griffin 77), 12 Naythan Coleman, 13 Gavin Ryan (gk), 15 David O'Leary (for Kennedy 62), 19 James McCarthy, 20 Danny O'Connell (for N O'Connell 77), 25 Regix Madika (for Turner 62)
Referee: Eoghan O'Shea