| | | |
| --- | --- | --- |
| BRAY WANDERERS | 0-1 | ATHLONE TOWN |
| | | Scott Delaney 48 |
First Division
Carlisle Grounds
10 Sep 2021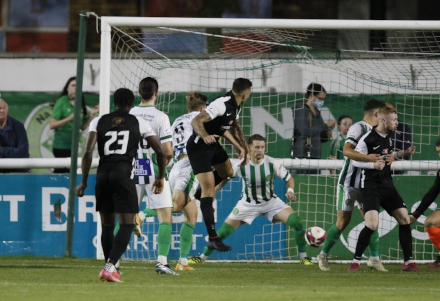 Delaney heads home
Pic Peter Minogue
Bray could be under pressure in their attempt to retain a playoff place after a dreary loss in the Carlisle Grounds tonight.
A blank score-sheet in the first half was marked by good defence on the part of the visitors, and poor finishing by the Seagulls.
Athlone won a half corner in what was effectively the first action of the second half.
Scott Delaney, who had not been prominent in the first period, provided a superb header from Kurtis Byrne's flag-kick to give the Town the lead.
And Bray's efforts to craft an equaliser ran into trouble with the visitors intercepting ball after ball, while the last quarter hour saw a series of Bray attacks blunted by the concession of easy fouls in the final third.
Full report to follow
Bray Wanderers: 1 Brian Maher; 8 Mark Byrne, 4 Andrew Quinn, 15 Daniel Jones, 3 Dylan Barnett; 6 Conor Clifford (c)

; 16 Darren Craven, 14 Richie O'Farrell, 28 Sam Verdon, 11 Brandon Kavanagh; 9 Joe Doyle
Subs: 5 Aaron Barry, 7 Ryan Graydon, 10 Gary Shaw, 17 Luka Lovic, 18 Seán Callan, 22 Steven Kinsella, 25 Kian Clarke (gk), 27 Callum Thompson
Athlone Town: 16 Mícheál Schlingermann; 2 Aidan Friel, 6 Killian Cantwell, 14 James Doona, 5 Scott Delaney

; 23 Tunmise Sobowale

; 18 Oisin Duffy

, 10 Kurtis Byrne (c), 19 Brandon McCann, 21 Dylan Hand; 25 Glen McAuley


Subs: 4 Daniel McKenna, 7 Adam Wixted, 11 Stephen Meaney (for McAuley 90)

, 13 David Brookes, 20 Tumelo Tlou, 21 Jack Reynolds, 24 Katlego Mashigo, 50 Tommy Holland (gk)
Referee: David Keeler