| | | |
| --- | --- | --- |
| CABINTEELY | 0-3 | BRAY WANDERERS |
| | | Joe Doyle 29 |
| | | Sam Verdon 61 |
| | | Brandon Kavanagh 86 |
First Division
Stradbrook
30 Jul 2021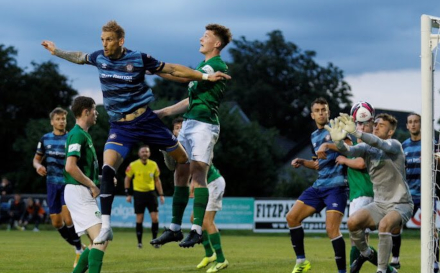 Verdon nets for his new club
Pic Peter Minogue
Wanderers bounced back in solid fashion from their dismal Cup experience in Inchicore with a well-deserved victory in what some have taken to calling the 'El Dartico' at Stradbrook.
Bray dominated the opening half hour, culminating in a well-taken goal by Joe Doyle.
The reverse sparked a revival in the home side's attacking efforts, which rarely however made it into scoring range.
That was supplemented near the hour by a first strike for the Seagulls by Sam Verdon, and towards the end Brandon Kavanagh found the net too.
Both Kavanagh and Darren Craven had half-chances in the first minutes of what would prove to be an inconclusive period of huffing and puffing played mostly in front of the Cabinteely goal - or at least in their half.
Following a Bray corner, Conor Clifford and Richie O'Farrell had chances blocked in a crowded goalmouth by Luke O'Connor and Mitchell Byrne respectively, and a second flag-kick headed away by Vilius Labutis was played back in and eventually headed wide by Doyle.
Doyle had another deep cross fly behind on the quarter hour, and minutes later Craven shot high and wide from a little Doyle tap to him when it seemed easier to score.
The Seagulls came under some pressure midway through the period, and when Ben Feeney and Dylan Barnett both went for the ball just in front of Maher it seemed more probable that the Bray back had the last touch, but a goal kick was the decision.
Barnett was up the other end minutes later, but his shot was well tipped over by Michael Quinn, and the flag kick headed high by Doyle.
The opening goal came at the end of a series of pases between Craven, Kavanagh and Doyle, the last of which, from Kavanagh, found the front man with space and time to pick his spot and fire past Quinn.
The following exchanges were more even, with Andrrw Quinn sliding to clear a Cabinteely attack, and Quinn collecting Bray half-chances, though it did appear to be a defender who touched last before he collected the ball behind the end-line.
Maher had little trouble with a Niall Barnes shot, as did Quinn with a Kavanagh ball intended for Verdon, while O'Connor did well to block a Craven shot and Maher went wide to tidy up a long ball from Eoin Massey.
When Barnett's 41st minute cross was blocked it was returned in to Doyle, who blasted it high and wide in front of an open goal, and in the final minute of regular time the same player raced up the line but couldn't keep the long ball in play.
Maher got a little exercise in the opening minutes of the second half as Cabinteely started with pace and verve, a Keith Dalton shot deflected out for a corner the home side skipper took himself, and it took Craven and then Mark Byrne to clear away.
But the flurry didn't last, and within ten minutes Clifford had an opportunity with an enticingly positioned free, but he couldn't keep it down.
Just inside the hour, Maher raced wide to head down and then clear a hopeful long ball, and it was from that clearance that Bray won the corner with which Kavanagh found Verdon highest to head home for his first Bray goal.
Minutes later, a Mark Byrne cross ended in a tangle of bodies in front of the Cabinteely goal, Quinn the lucky player who came out with the ball.
Miday through, Cabinteely substitute (and former Seagulls star) Kieran Marty Waters won a corner, and was to add some finish to an otherwise listless enough performance by the home side.
Another home sub, Jack Watson, provided a cross that Maher had to clear out at the cost of a corner, and with less than a quarter of an hour left a Doyle effort had the same end when it came off the post and Quinn's diving hand.
A further Cabinteely attack saw Waters head a Dalton ball wide when Feeney, a little further on, was possibly better placed to score, and a minute later Maher saved well, but the offisde flag was up for some reason in any case.
Waters was unlucky in overstepping the roll of a Dalton through ball, allowing thr Bray keeper to collect, and at the other end Doyle's half-chance went straight to Quinn.
Callum Thompson, coming off the bench for his first Wanderers reappearance, vied with Feeney to keep a rare miskicked Maher clearance in play, to no apparent avail though play continued.
Byrne sent a long ball up the line, and Verdon beat Jack Hudsn fr possession, sending a low ball across the face of the goal toKavanagh, who was on his own with time to fire home and seal the victory, though Jordan Payne's clever ball from the centre spot almost caught Maher off his line, forcing him to flap it out over the end-line.
Waters was flagged offside from the second corner after that, and in the final minute of normal time stabbed the ball low at Maher from close range, finishing the game with a shot from a narrow angle that flew behind the net in time added.
Mícheál Ó hUanacháin
Bray Wanderers: 1 Brian Maher; 8 Mark Byrne

, 4 Andrew Quinn, 15 Daniel Jones, 3 Dylan Barnett; 11 Brandon Kavanagh

, 6 Conor Clifford (c), 14 Richie O'Farrell, 28 Sam Verdon

, 16 Darren Craven; 9 Joe Doyle


Subs: 10 Gary Shaw (for Verdon 80), 18 Sean Callan, 22 Steven Kinsella, 25 Kian Clarke (gk), 27 Callum Thompson (for Craven 67), 30 Jack Ross (gk)
Cabinteely: 45 Michael Quinn; 5 Andy O'Brien, 37 Luke O'Connor, 33 Mitchell Byrne

, 4 Jack Hudson; 7 Keith Dalton (c), 15 Eoin Massey

, 16 Vilius Labutis, 6 Alex Aspil, 12 Niall Barnes; 34 Ben Feeney
Subs: 10 Kieran Marty Waters (for Barnes 55), 14 Jack Watson (for Aspil 69), 18 Conor Knight (for Dalton 84), 19 Luke McWilliams, 20 Eoin McPhilips (for Massey 69), 26 Jordan Payne (for Labutis 55)

, 25 Harry Halwax (gk), 27 Jack O'Reilly, 29 Jem Campion
Referee: Mark Moynihan