| | | |
| --- | --- | --- |
| BRAY WANDERERS | 0-0 | CORK CITY |
First Division
Carlisle Grounds
30 Apr 2021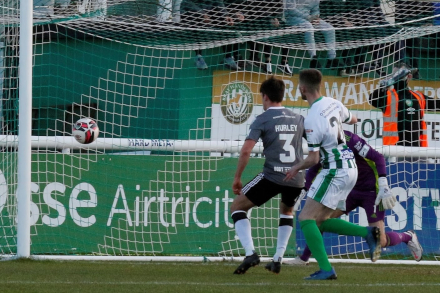 Cian Maher goes for the rebound (7' in)
Pics Peter Minogue
Any other season, almost, Bray would be delighted with a draw against Cork City - even at home. This year is different.
The southern visitors lie stalled in the bottom end of the table, after four consecutive losses before tonight, while four draws and no wins have the Seagulls only points above them.
And single points, even at this stage of the season, are worth far less than the effort needed to gain them.
A strikingly fast start saw the home side win two corners inside two minutes, and a shot from the second that went narrowly wide.
Within seconds at the far end a Cork surge wasn't particularly well defended, but failed to find the target.
Seven minutes in, a Brandon Kavanagh free from the righthand corner of the area came back off the foot of the far post, and Cian Maher's follow-up was touched away byt Mark McNulty for a corner, from which Bray skipper Aaron Barry was unable to direct his header home.
Both goalies were in action minutes after that, McNulty claiming a stray Kavanagh cross and Brian Maher had no difficulty with a loose header by Darragh Crowley from Cian Murphy's cross in.
Just on the quarter hour, Joe Doyle should have done better than touch a slack shot straight at McNulty after good buildup work by the Bray midfield.
Luka Lovic was sandwiched out of possession in a dangerous position, a tactic which seems to escape sanction no matter where it is used, and shortly after that Doyle slipped on the freshly watered pitch and lost the race for Richie O'Farrell's through ball from midfield.
Midway through the half, Jack Baxter stood over a Cork free some 22m from goal and in a fairly central position, before sending way too high and wide of the lefthand post.
A Cian Maher effort was blocked by bodies in the area soon after, and a Kavanagh free deep in the corner punched away by McNulty,
The game was seeing an amount of errant passing and slow reaction on both sides, and there was little flow due to a succession of frees and throws.
A Cork free from the left sideline was played short to Cian Bargary, who shot low and right of target.
With the break coming near, Cian Maher shot high following a nice Bray move that started with a neat backheel from Kavanagh, and minutes later more good attack play was vitiated when the last ball was deflected high and easy for the Cork goalie.
A flurry of activity just before half-time saw Bray get two throws deep in Cork's corners, and Cork a corner at the end, but no change in the scoreline.
Colin Healy made a formation change for the second half, and duly limited Wanderers' freedom of movement, ensuring a somewhat slower restart.
Nevertheless, following a brace of frees, Mark Byrne got a chance to cross, but O'Farrell wasn't quite near enough to the flight.
And when a trademark Colin Bargary long throw bounced in the area, Brian Maher got to it first.
Shortly after the hour, Referee Michael Connolly's concentration seemed to slip a little: what appeared a clear foul on Jonas Häkkinen wasn't spotted, and Cork was given a throw that looked like it should have gone the other way.
Otherwise, however, the play seemed to and fro to very little effect for a considerable part of the second period.
Inside the final twenty minutes, Jack Walsh got a good head to a ball that came to him from but just a fraction too high, while amoment later Doyl was too close to McNulty to takeadvantage of a long Bray throw.
Witth ten minutes to go, a Kavanagh corner was only partially cleared, but Mark Byrne fired his shot too high, and a little later a Cork breakout followed their successful frustration of another Bray attack. The pressure of two Cork throws in Bray's lefthand corner was eased by a free out.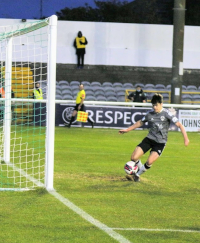 Hurley's last-ditch time-added clearance
McNulty punched away a decent Kavanagh free from 20m on the left in the dying minutes, and deep in additional time, after Healy had made a final substitution,
Wanderers almost snatched a winner deep in added time.
Substitute Shaw got onto the ball when Doyle headed it into the left of the area and fired low under the advancing McNulty. It looked a certain goal until Ronan Hurley managed somehow to get to it in time to clear.
In fairness, it should be said that neither side really deserved all three points, much though they would have been welcomed.
Mícheál Ó hUanacháin
Bray Wanderers: 1 Brian Maher; 8 Mark Byrne, 4 Andrew Quinn, 5 Aaron Barry (c)

, 24 Cian Maher; 12 Dean O'Shea, 17 Luka Lovic, 6 Conor Clifford, 14 Richie O'Farrell; 11 Brandon Kavanagh; 9 Joe Doyle
Subs: 10 Gary Shaw (for C Maher 56), 12 Ross O'Brien, 23 Glen Hollywood, 25 Kian Clarke (gk), 27 Jack Hughes, 30 Jack Ross (gk)
Cork City: 1 Mark McNulty; 25 Gordon Walker, 28 Jonas Häkkinen, 30 Jack Baxter, 3 Ronan Hurley; 11 Cian Bargary, 8 Cian Coleman (c), 16 Alec Byrne; 27 Jack Walsh, 24 Cian Murphy, 17 Darragh Crowley
Subs: 2 Uniss Kargbo, 7 Dylan McGlade, 9 Beineón O'Brien-Whitmarsh (for Murphy 81), 13 Dave Harrington (gk), 15 Dale Holland (for Baxter 92+), 20 Paul Hunt (gk), 26 Jamie Wynne, 29 Issa Kargbo
Referee: Michael Connolly