| | | |
| --- | --- | --- |
| COBH RAMBLERS | 1-1 | BRAY WANDERERS |
| Charlie Lyons 78 pen | | Brandon Kavanagh 59 |
First Division
St Colmans Park
24 Apr 2021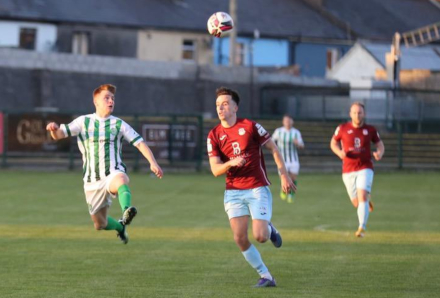 Kavanagh cuts inside for Maher's ball and a goal
Pic Peter Minogue
Five games, four draws - and again, Bray rue two points lost after what looked like a winning performance was marred in the final quarter hour by an ill-judged defensive move on the part of Richie O'Farrell, who had had an otherwise good showing.
Brandon Kavanagh put them ahead just before the hour, running on to a long Brian Maher clearance and looping a fierce shot just over the back-pedalling Sean Barron.
But after the foul on John Kavanagh, Referee David Dunne pointed instantly at the spot and Cobh defender Charlie Lyons drove to his right while Maher dived to his right.
It could be described, in terms of play, as having been against the run - but a penalty is a penalty.
A promising début by Charlie Gallagher was halted by injury late in the first half, and Barnett had to leave the fray late in the second: the Seagulls looking a little accident-prone this season.
After a lively opening salvo both sides had spells of possession in each other's half, Gallagher skying a ninth minute half-chance with a volley from a narrow angle following Brandon Kavanagh's cross, while Joe Doyle was in a promising position inside him.
But the first half, while entertaining, seemed unlikely to provide a goal-fest, though Sean Barron was the busier of the netminders.
Bray's Kavanagh (not to be confused wih the Rams' skipper, John) was unlucky to see his deep cross a quarter of an hour in headed high - and away from the home goal - by Gallagher, who otherwise seemed to be a promising-looking attacking midfielder.
Kavanagh also had further chances, a narrow miss low to the right on twenty minutes and a minute later, after good play on the left which followed a nice crossfield ball by Mark Byrne, another high and to the left.
Barron had to be sure to claim Joe Doyle's low shot from the left five minutes later, and the Cobh keeper needed a second chance to make safe after palming away a Richie O'Farrell effort.
Ian Turner was proving the most difficult of the home front men for the Seagulls, and just inside the half hour his shot had to be deflected clear by Luka Lovic at the cost of a corner.
Cian Murphy was the defender who cleared Kavanagh's free after his own foul on Gallagher, who had to be replaced shortly after, by Cian Maher. Murphy hadn't been sanctioned for that incident, but picked up a caution minutes later for a pull on Doyle's shirt.
In the dying moments of the first period Lovic took the ball out of the area from Turner's corner and raced past the Cobh defenders who had come forward for the flag-kick and in the final third having drawn what remained of the defence fed to the left for the unmarked O'Farrell, but marginally too far forward and the delay as the Bray man recovered allowed the defence to get men back.
Bray start to the second period was far more intense, and featured no fewer than five corners in the first ten minutes, starting when Lyons headed a Byrne free behind, Kavanagh (John) heading away the corner kick by Kavanagh (Brandon). Barnett brought play back into the area, but possession was lost in the crowd.
Barron needed to punch rather than claim two of the later corners, but all were dealt with to no advantage for Bray.
As the hour approached, John Kavanagh attempted a long lob following good work by Naythan Coleman, but Maher was alert to the danger. A minute later Coleman fed a deep cross from the left towards the back post, but Chris O'Reilly couldn't get enough on his header to keep it down.
But the next minute saw Bray ahead with Brandon Kavanagh's superb shot, which came up Route One, in contrast to a lot of the earlier Bray attacks which depended on close play well accomplished, but hadn't got past the defence.
Lovic tried to get on the scoresheet minutes later but his effort was well over, and Kavanagh's attempt after that was comfortably off target to the right, while when he looked to chip over Barron, it wasn't high enough to avoid the keeper's gloves.
Inside the final twenty minutes, Lyons having conceded a corner, Bray skipper Aaron Barry headed over, but he was back in defence to clear John Kavanagh's free out for a throw shortly after.
However, O'Farrell failed to get his foot out of the Cobh Kavanagh's way as both chased Ian Turner's long throw into the area, and Cobh duly equalised.
The other Kavanagh, the Bray one, had the ball lobbed into Barron's net two minutes later, but was lucky to escape a booking, as he had kicked it after a free out had been awarded.
Neat possession play was a feature of Bray attempts to restore their lead for the time remaining, but the loss of Barnett to what looked like a potential concussion when his attempt to clear rebounded to his head off Turner dislocated their attack despite substitute Dean O'Shea's best efforts.
Conor Clifford shot narrowly off target and Lovic had a low effort claimed by Barron from the first of three Bray corners as the clock ticked down. It was good to see Gary Shaw take the field again, even if his introduction didn't really have time to make an impact.
Mícheál Ó hUanacháin
Bray Wanderers: 1 Brian Maher; 8 Mark Byrne, 4 Andrew Quinn, 5 Aaron Barry (c), 3 Dylan Barnett; 20 Charlie Gallagher, 17 Luka Lovic, 6 Conor Clifford

; 11 Brandon Kavanagh

, 14 Richie O'Farrell; 9 Joe Doyle
Subs: 10 Gary Shaw (for C Maher 86), 12 Dean O'Shea (for Barnett 85 inj), 16 Darren Craven, 22 Stephen Kinsella, 24 Cian Maher (for Gallagher 38 inj), 25 Kian Clarke (gk), 30 Jack Ross (gk)
Cobh Ramblers: 1 Sean Barron; 2 John Kavanagh (c), 15 David O'Leary

, 4 Lee Devitt Molloy

, 12 Naythan Coleman; 6 Charlie Lyons

, 17 Cian Murphy

, 24 Christopher O'Reilly, 18 Martin Coughlan, 7 Ian Turner, 23 Ciaran Griffin; 9 Killian Cooper
Subs: 3 Darryl Walsh, 5 Ben O'Riordan, 10 Jake Hegarty (for Griffin 66), 11 Conor Drinan, 13 Gavin Ryan (gk), 19 James McCarthy, 20 Kevin Williams
Referee: David Dunne