First Division
Belfield
09 Apr 2021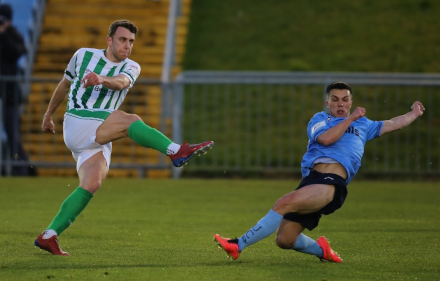 A Craven effort in vain
Pic Peter Minogue
A third draw in a row for the Seagulls, and again a match full of entertaining football, with both sides dominating for periods and plenty of attack on display.
But the missing link to the back of the net was starkly absent, or more accurately only achieved once, by UCD's Colm Whelan midway through the first half, and from an offside position.
The home side had what appeared to be a fairly strong claim to a penalty early in the second period when Evan Weir was down in the area, but Referee Kevin O'Sullivan was unimpressed.
The Seagulls were the early aggressors, Lorcan Healy called into action to punch away a second-minute cross from Brandon Kavanagh, and a couple of minutes later they launched a promising move up the left, but Ryan Graydon ran out of pitch before crossing.
But even before the game could be said to have settled down, Liam Kerrigan had a chance to shoot, sending the ball straight to Brian Maher in the home goal.
Just inside the quarter hour, an Evan Weir corner looked a little dangerous when sent back into the area, but it was eventually cleared, even if there was a whisper of handball in the process.
Healy had no trouble with a longrange Kavanagh effort, and a minute after that at the other end Bray were relieved by a free out, Kerrigan fouling Mark Byrne in his attempt to regain control of the ball.
The Students, even at this early stage, seemed to favour the kick to touch as a method of clearance. A Kerrigan half-volley after some confusion in the Bray defence posed no problem for Maher, but a minute later Paul Doyle nodded on a ball out of defence by Sam Todd, and Colm Whelan controlled with his own head and acrobatically slammed it into the Bray net as the offside flag rose.
A hint of trouble that might have developed lay in Weir kicking the ball at Stephen Kinsella after being brought up by the whistle, and for a while niggly fouls punctuated the action: Dylan Barrnett fouled by Kerrigan, Luka Lovic fouling Seán Brennan.
Just past the half hour mark, Maher came out of his area to meet a long ball by Weir that was falling behind the Bray defnce, chested it down and kicked clear. Minutes later, Andrew Quinn defended well in seeing the ball out of play despite Whelan's charge.
The teams squared up to each other five minutes before the break following a heavy challenge by Kinsella, who received a caution for his pains, but the potential confrontation melted away quickly. in the remaining first half action Graydon seemed to be on side when the flag was raised, and the same player receiving from Darren Craven tried to find Lovic with a short knock, but it wasn't accurate enough.
Five minutes into the second period, Bray skipper Aaron Barry lost Liam Kerrigan who in turn lost possession, and his balance, as he was surrounded by defenders, and the niggly fouls resumed.
Kinsella didn't earn a free when he went down, nor Kerrigan who handled after falling, nor Mark Dignam with whom contact, if any, was minimal. Shortly thereafter, however, the Seagulls suffered an unexpected blow when Lovic, who had received attention just after the resumption, had to be replaced.
A couple of quick Bray frees just inside the hour ended with Kvanagh's deadball reaching Craven and forwarded to Barry, whose header was well dealt with by Healy.
A disputed line throw awarded to UCD wound up in Bray's possession, but Kavanagh skied his shot, as did substitute Joe Doyle a minute later, and there-and-back service resumed.
As Bowl commentator Declan Hughes remarked, the teams appeared to be neutralising each other, and there was little to choose between them.
With less than twenty minutes remaining, a Bray corner reached Richie O'Farrell, who nodded on only for Paul Doyle to clear, and the UCD defence, if a little scrambled at times, continued to frustrate the Bray attack.
Healy did well to claim a Kavanagh shot which was headed for the top fra corner of the net. Inside the final ten minutes, Kinsella ran on to a poor Healy clearance, but was well tackled by Todd in the UCD area, while In frantic action in the closing minutes and into time added neither side could make a breakthrough, though Healy was the busier keeper, claiming both a Graydon shot from the righthand sideline and a Bray free from the same area which had been nodded on.

Mícheál Ó hUanacháin

Bray Wanderers: 1 Brian Maher; 16 Darren Craven, 4 Andrew Quinn, 5 Aaron Barry (c), 3 Dylan Barnett

; 8 Mark Byrne

, 17 Luka Lovic; 14 Richard O'Farrell, 22 Steven Kinsella

, 7 Ryan Graydon

; 11 Brandon Kavanagh
Subs: 9 Joe Doyle (for Lovic 54 inj), 10 Gary Shaw, 12 Dean O'Shea, 18 Sean Callan, 20 Charlie Gallagher, 23 Glen Hollywood, 24 Cian Maher, 25 Kian Clarke (gk), 30 Jack Ross (gk)
UCD: 1 Lorcan Healy; 25 Evan Weir, 22 Sam Todd, 5 Luke Boore, 8 Mark Dignam; 14 Eoin Farrell, 6 Jack Keaney (c), 21 Paul Doyle, 7 Liam Kerrigan; 27 Sean Brennan; 10 Colm Whelan
Subs: 2 Michael Gallagher, 9 Danu Kinsella Bishop, 11 Ciaran Behan, 12 Adam Lennon (for Kerrigan 88), 15 Adam Verdon, 16 Carl Williams (gk), 17 Dara Keane (for Dignam 75), 18 Donal Higgins, 24 Harvey O'Brien
Referee: Kevin O'Sullivan