Maher called up for Ireland camp
2021-05-25
As expected, Bray's Brian Maher has been called up for the Ireland Under-21 camp in southern Spain at the end of the month.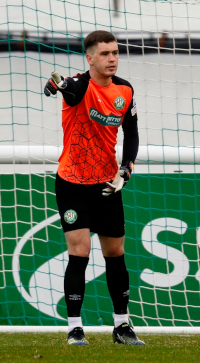 Brian Maher
From Markets Field to Ireland duty
The Wanderers keeper, who has kept five clean sheets in the League to date this season, will be in competition with Dan Rose (Shalke 04) and Sam Blair of Norwich City for the number one spot.
The Under-21s will play three friendlies during the camp in preparation for their 2023 European Championship qualifiers against Bosnia & Herzegovina and Luxembourg in September.
All three will be available to viewers of certain TV services.
Fixtures
Switzerland v Ireland, 30 May, KO 11am, Dama de Noche Football Centre, Marbella (Live on Premier Sports 1/ FreeSports)
Australia v Ireland, 02 Jun, KO 12 noon, Marbella Football Centre (Live on Premier Sports 1/ FreeSports)
Ireland v Denmark, 05 June, KO 5pm, Dama de Noche Football Centre (21.30pm, Premier Sports 1)