No Laughing Matter
2021-04-01
Bray Wanderers marked the opening of a new season, and the turn of the traditional seasons, with a surprise announcement this morning, 01 April.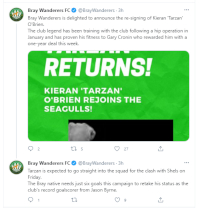 Published on its Twitter page, the re-signing of club legend Kieran 'Tarzan' O'Brien, following a hip operation, was expected to be widely welcomed, and the club noted that "the Bray native needs just six goals this campaign to retake his status as the club's record goalscorer."
See this morning's posting on the Wanderers Twitter page.
Read On a Lighter Note on similar reports and news items around the world.
PS Kieran O'Brien is 48.