U17 Women Runners-Up in Shield
2020-12-24
Bray's Under-17 Women came up short at the final hurdle this week when they succumbed to the Donegal Women's League in the Shield Final in Oriel Park.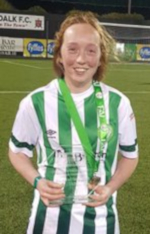 Aoife Mohan
Player of the Final
A tight first half ended in the worst possible way for the Wicklow girls when Donegal captain Aoife Gallanagh netted against the run of play on the stroke of half time.
Try as they might, the Bray ladies could not break through a stubborn defence in the second period, the intensity of their play indicated by the award of player of the match to Aoife Mohan, something that rarely happens to a losing player.
Playing in a Final was nonetheless a fitting end to a very successful début season for the Bray Women's Under-17s, many of whom will be stepping up to Under-19 next season.
Shield Final:
23 Dec Bray Wanderers 0-1 Donegal Women's League 6pm, Oriel Park
[Aoife Gallinagh 45]
Bray Wanderers: 1 Danielle Batt; 7 Sophie Madden, 5 Zoe Kelly (c), 6 Casey Brown Roche, 3 Sophie Hamilton, 11 Aoife Mohan, 15 Ella Moriarty, 18 Lucy Heffernan, 9 Hannah Bissell, 20 Eve O'Brien, 10 Ava Treacy
Subs: 2 Rebecca Gillan, 14 Niamh Carry McLeavey, 16 Caitlin Lynch, 17 Sophie Davis, 21 Molly Kathleen Crowe, 30 Rebecca Prenter (gk)
Donegal: 20 Orla Corry; 2 Lucy Canning, 17 Erika Gallagher, 5 Alannah Kee, 18 Shania McMonagle, 15 Erin Doherty, 6 Aislinn Coll, 10 Aoife Gallanagh (c), 11 Louise Gallanagh, 8 Emma Doherty, 13 Codie Walsh
Subs: 1 Caoimhe Brennan (gk), 3 Rachel McCallion, 4 Ciara McGarvey, 7 Nadine Hargadon, 9 Ellie McBride, 14 Abbie McKnight, 16 Sinead McBride
Referee: Daryl Carolan
See the summary of Bray Wanderers' Under-Age teams' seasons here