Debut for Seagulls at 17
2018-02-05
Bray Under-17 goalkeeper Alex Nevin was listed on the bench for today's first competitive match of the 2018 season.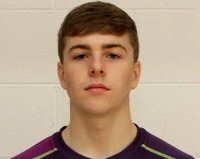 Alex Nevin
But to general surprise he ended up starting between the sticks when Eric Donnelly "became unavailable due to unforeseen circumstances" (as the manager later put it).
Despite ending up on the losing side of the score, the young netminder impressed on his debut, making several fine saves in the course of the game.