Harry hands in his notice
2017-10-07
Bray Manager Harry Kenny is to leave the club at the end of the current season.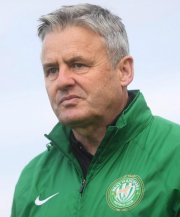 Harry Kenny
Leaving Bray Wanderers
In a statement released after today's match against Galway United, the manager said "It was with mixed emotions that I informed the board of Bray Wanderers FC that I would not be available as Manager for next season."
Kenny was appointed manager in Bray in April 2016 aftyer a series of controversial departures by predecessors Alan Matthews, Trevor Croly and Mick Cooke.
His tenure coincided with a series of off-pitch mishaps and misadventures that had the club in disarray, but the manager succeeded in keeping the worst of the effects from damaging the team, and they are ending the current season with a chance of finishing with qualification for European competition.